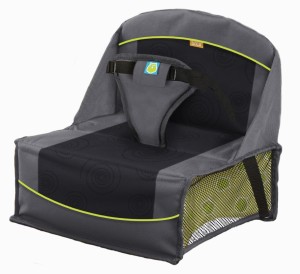 When we traveled to Mexico and New Hampshire last year, we didn't have high chairs and I did not bother to bring anything special for the twins to sit and eat. And we paid the price.
They are so easily distracted from their food anyway. If they can't sit comfortably and reach the table, it's next to impossible for them to sit still and eat. Twin V has a particularly short attention span at the table, and the only way I could get him to eat was to plunk him on my lap. And even that is only good for a few bites.
They retail for $25 each so it was not a huge financial investment. I was more concerned about the space investment, ie, how much room would they take up in the suitcase? Fortunately, they do fold up pretty flat. I put them on the top of the twins' already full suitcase and still managed to zip it up. Bonus.
In addition to fitting in the suitcase, these boosters served our needs very well. They fold and unfold in seconds. They snap onto any chair with a back, just like a regular booster seat. The fabric is easy to wipe clean. And for the most part, the twins were comfortable in them.
The booster seats even have a three-point harness. We didn't really need it; but it was occasionally useful to strap in a boy when he was not cooperating.
These boosters are clearly not made for everyday use, though. After five weeks of using them two to three times a day, the boosters started to collapse under the weight of the twins (who do not come close to the 40 lb weight limit). In fact, I think this problem started during the fourth week. At first I blamed my squirmy kids. But by the end of the trip it was clear that at least one of the booster seats could no longer support them.
For the first month, I was satisfied with this product; but it would be nice to be able to use it for more than one trip and that seems unlikely in our case. I would definitely recommend it for occasional eating out or short-term travel – but it's not a solution if you're going to be on the road for a longer period of time.
Score: 3/5 stars