Cambridge, Mass – Since we celebrated Christmas in Costa Rica, Daddio and I did not do a great job buying presents for each other. Let me rephrase that… I did not do a great job buying Christmas presents for Daddio. So upon our return, I decided to treat him (us) to a post-holiday date night at the American Repertory Theater (ART).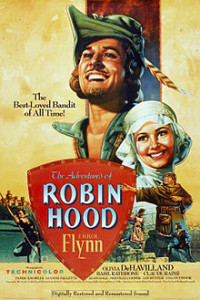 Daddio is a fan of Robin Hood. He likes the classic
Adventures of Robin Hood
, with Errol Flynn and Olivia de Havilland. He likes Mel Brooks' version
Men in Tights.
He is usually extra critical of new interpretations of his old favorites, so maybe it was risky to take him to see 
Heart of Robin Hood
, the latest romp at the ART. But the production has gotten good buzz, so we decided to check it out.
That was the funnest date night we have had in a while. It was certainly the most fun we have ever had at the ART, even better than the
Donkey Show
. We did not take the twins, but I highly recommend this show for kids who are a few years older. There is some violence, including one beheading and one tongue ripping-out (!) But it's also packed with all the stuff that kids like–amazing acrobatics, slapstick comedy and plenty of comeuppance. And Christmas lights.
Plus a soundtrack of rollicking roots music by the "Alt Americana" band
Poor Old Shine
. I'm not sure what Alt Americana means, but this band rocks the house with bluegrass.
According to playwright David Farr, his daughters were complaining that female characters on stage never get to do anything besides "kiss the hero, swoon, cook pretty pastries and sew." So he set out to write them a daring and inspiring female character. In his version of the old tale, Robin Hood is nothing but a thug, stealing from the rich and keeping for himself. His band is not merry, but actually rather cynical. The spunky Maid Marion sees through his hardened exterior and sets out to change his ways, converting him from harrier to hero.
Here's the ART's promo video, showing what people like about this show:
Here's what I liked about this show: the set. The stage centers on a giant oak tree, which allows the actors to swing, climb and frolic just as you imagine forest-dwelling thieves would do (in addition to some pretty impressive aerial acrobatics that are probably beyond the skill level of most thieves). In the middle of the stage there is a swamp with real water, and additional holes for the bad guys to fall into and the good guys to jump into (and occasionally out of). And at the back: a huge grassy hillside, perfect for spectacular sliding entrances.
These actors were clearly having a ball, and no wonder, as they were playing in an oversized playground. So, yes, it's good for kids. Of all ages. You just might have trouble keeping them in their seats.