New York City – We had so much fun visiting Auntie and playing in Central Park last year, that Daddio signed up for the same conference this year. The fact that it was the weekend before our departure to Moscow didn't seem relevant at the time. Last Friday as we were trying to get ready to go, it did seem relevant. Daddio and I were incredulous: what were we thinking? The twins were sick. I had not completed my manuscript. Moscow was exactly one week away. Maybe this was not the best time to be climbing on rocks and sailing model boats in Central Park. We briefly debated staying home and letting Daddio go to New York by himself, but then I remembered that it was still vacation week, complete with germ-filled house, rainy weather and jam-packed museums. I quickly came to my senses. Of course we were going to New York.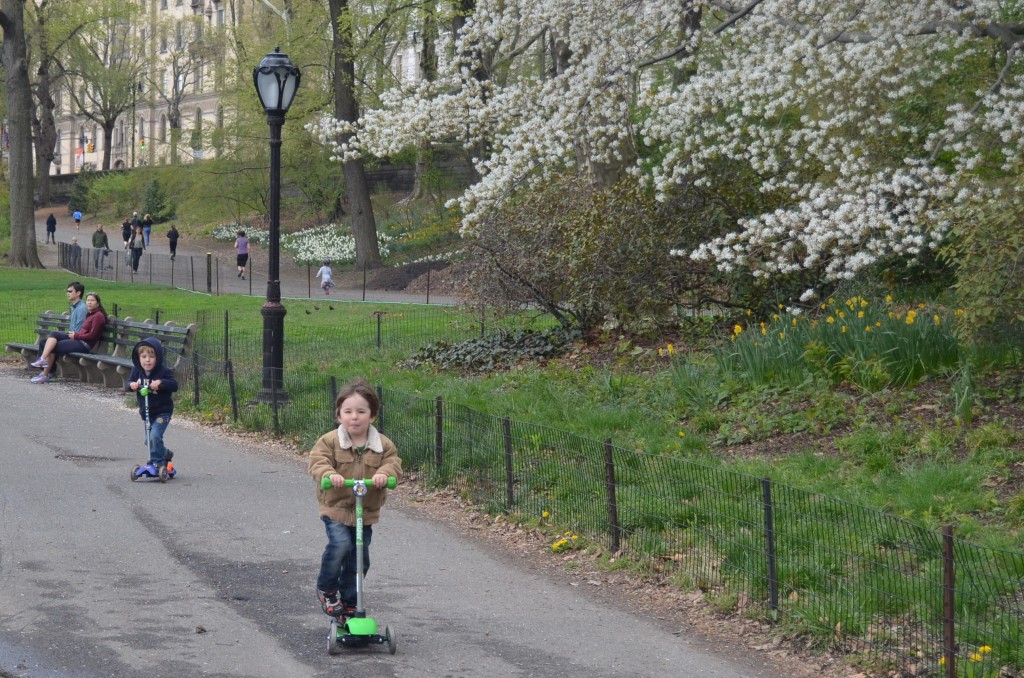 Just like last year, we spent most of the weekend in Central Park. We were fortunate to have lovely sunny days (while it rained all weekend in Boston), and the park was awash with blooms. We brought the twins' scooters, which made it easy to get around–for a while. Then the twins got tired and they boycotted the scooters, which made it difficult to get around.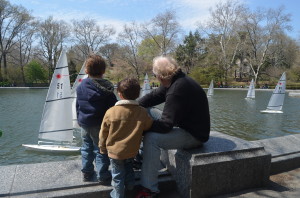 We rented a model sailboat and sailed it around Conservatory Water. I think Daddio and I enjoyed this rather relaxing activity more than the twins did. Somehow, the sailboats were not as exciting as the remote-control motorboat that was buzzing around at top speeds nearby. So the twins are motorboat people instead of sailboat people–those are my genes. Saturday was the day that Daddio had to go the conference– you know, the reason we were in New York–so I was on my own with the twins. It was rainy in the morning. Due to germy kids, I had to cancel my original plan to ride the subway to Brooklyn to visit my friend and her newborn. We built a pillow fort out of the couch cushions. I started having vacation week flashbacks. We were staying directly across the street from the American Museum of Natural History, and it seemed like a no-brainer to go there on a rainy day and see the famous dinosaur bones. So that's what we did. And it was a no-brainer, as evidenced by the fact that everybody in New York did the same thing. That place was mobbed. Fortunately, it's also huge. Once we left the dinosaur halls, the crowd thinned out a bit and the twins were able to look around and enjoy some of the exhibits. The highlight was spotting the creatures in the habitat dioramas–probably the least visited part of the museum, which was perfect for the twins. It seems a little silly to drop $47 to look at habitat dioramas, but I'm sure there are worse things you can do with your money. Also, the twins did learn what caused the dinosaurs to die off from the earth, so I guess it was worth it.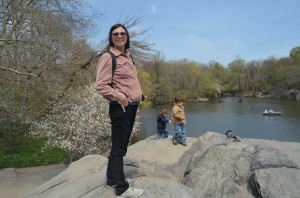 Just like last year, the hands-down favorite activity of the weekend was climbing on the rocks at the edge of the Lake in Central Park The twins spent hours (on two different days) scampering up and down these small cliffs with remarkable agility. Daddio and I both had to take deep breaths and trust that they probably wouldn't die if/when they tripped and fell. And they didn't (die, that is). Now vacation week is finally over. When the twins returned to school, I prompted them "Say hola to [your teacher]–you haven't seen her in a long time. Did you miss her?" Twin S said "We missed you, because we went on vacation in New York!" We were on vacation in New York. I totally forgot. And the twins had a blast, despite the coughing and runny noses, despite the crowded museum and despite the slow, traffic-jammed drive home. They don't seem to remember any of that stuff. They do remember scooting in Central Park and climbing on the rocks and being chased by Auntie's new puppy. And they even remember what caused the extinction of the dinosaurs. I guess that's a pretty good vacation for a three-year-old.