Detroit, Michigan – Imagine a nearly 1000-acre island park, an idyllic green space designed by Frederick Law Olmsted and packed with recreational facilities, but easily accessible to city dwellers. Cover it with wetlands, beaches and manicured spaces, replete with picnic areas and playgrounds. Add a smattering of graceful Beaux-Arts buildings, containing club houses, botanical gardens and an aquarium. Sounds beautiful, right?
That's why they call it Belle Isle.
The would-be urban island paradise has been in the news since it was taken over by the State of the Michigan earlier this year, in the wake of Detroit's declaration of bankruptcy. The place had fallen into disrepair, with reports of fast driving and "fast" women, but the state is supposedly cracking down and cleaning up. We took the twins to check it out.
The place brought back memories of high school proms and pranks, but I had not been there in decades. I immediately recognized Olmsted's genius in the park's design, with winding waterways, shaded roadways and nature-centered landscaping. I also recognized the strangely romantic atmosphere of abandonment that used to pervade the parks and palaces in Moscow and St Petersburg in the 1990s. Many of the buildings (including bathrooms!) are still locked up; some are crumbling. The grounds are pretty well groomed, but the picnic areas are populated mainly by geese.
Our first stop was the centerpiece James Scott Memorial Fountain, a glorious, 40ft fountain bedecked with lions, dolphins and turtles spouting water. There is also a bronze statue of James Scott himself, who paid for the fountain. (This amusing article in Historic Detroit calls him a "womanizing scoundrel," among other things. He must have been pretty bad, if even a fabulous fountain has not erased the memory of his wicked ways.) Anyway, the fountain is now spraying for the first time since 2005–and it looks amazing!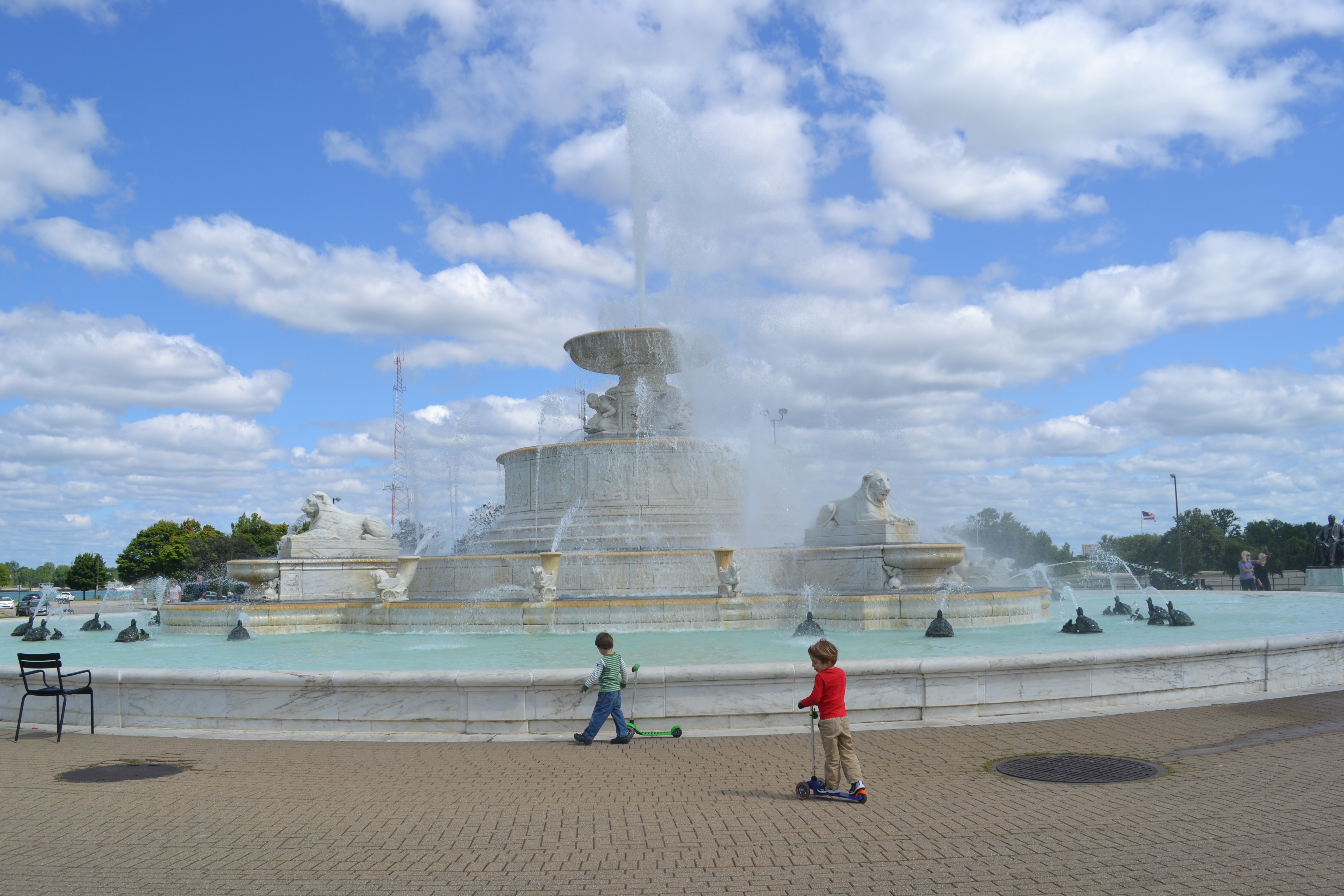 After a short driving tour of the island, we ended up at Kids' Kingdom, a huge playground with half a dozen different climbing structures and a slew of kids running wild. This is a great facility, and I was pleased to see it being used by a bunch of different day cares and summer camps.
We spent a few hours here, but we could have stayed much longer on the island, as we skipped the beach (yes, it's safe to swim in the Detroit River), the giant slide (that brings back childhood memories), the nature zoo (now home to the deer that used to have free rein of the island) and the aquarium (open only on weekends). For more mature audiences, there is also a maritime museum, a plant conservatory and a driving range and putting green.
The place deserves its reputation as the "jewel of Detroit" and the state's takeover is a godsend, especially since the other alternative was to sell the island to developers.
Yet, the state's management is controversial.
I am embarrassed to admit that I did not at first understand why. Then I read that six months into the 30-year lease, park police have made more than 1000 traffic stops. One thousand. Apparently speeding has been a big problem on the island in the past, making it dangerous for bikers, bladers and pedestrians. The state promised to curtail that problem, and this is how it delivers on the promise.
The goal seems laudable. But considering the news out of Missouri (among other stories), it's clear why this strategy might not be welcome by the mostly black population of Detroit and the mostly black people that use the facilities at Belle Isle. To many African Americans, police officers are not a reassurance, but a threat. Racial profiling and police brutality are frightening realities. Is it any surprise that fewer people are visiting the island since the state's takeover?
For the record, speaking of those 1000-plus traffic stops, verbal warnings were issued in the vast majority of cases. Less than 10% of stops resulted in actual citations or arrests. And when we were on Belle Isle, the police presence was not ubiquitous. I mean, we saw some cops hanging around, but not tons of them. But that was on a quiet Thursday afternoon, so it might not be representative.
This is what the president of the Belle Isle Conservancy has to say about the decline in numbers of visitors, as quoted in the Detroit Free Press: "Certainly it's an alert for me. It says we have some work to do… from a numbers standpoint as well as a diversity standpoint. Because this can't be just a white island."
This person gets it. Policing is necessary and it yields plenty of benefits. But this is the jewel of Detroit, a city that is 83% African American. This place is for Detroiters and the state has a responsibility to make sure they feel welcome here.