Stow, Mass – This is an annual trip (which you can read about here and here), but honestly, every year it's a completely new experience. I never know what to expect: Will the kids dare to venture into the hedge maze? Will they remember the Three Little Pigs? Will they eat apples?
Fortunately, Honey Pot Hill has enough going on that there's bound to be something to catch the fancy — even of a fickle preschooler.
This year, both twins were very courageous about going into the tunnel maze, which is a tri-level, enclosed crawlspace, designed for kids age 4 to 9. Twin V hesitated — and he might have opted out — but Twin S said "You stay with me." And they were off. I was so proud of my brave boys, who did not dare venture into the tunnel maze alone just one year ago.
Of course, when our friends showed up, their two-year-old daughter disappeared into the tunnel maze without a backwards glance. We had to enlist the help of some older kids to track her down in there. "Oh yeah, she's having a great time, but we can't get her to come out!"
The twins also had no fears about the Mini Monster hedge maze this year. I was running to keep up with them, plus their wild little friend, who were on the run from the infamous hedge-maze werewolf (aka Daddio).
A hayride is kind of like mac & cheese or Elmo: it's a guaranteed win with the under-5 set. For whatever reason, sitting on a bale of hay on a wagon being pulled by a tractor is awesome kid fun. We did it twice.
Then we finally got to the apples.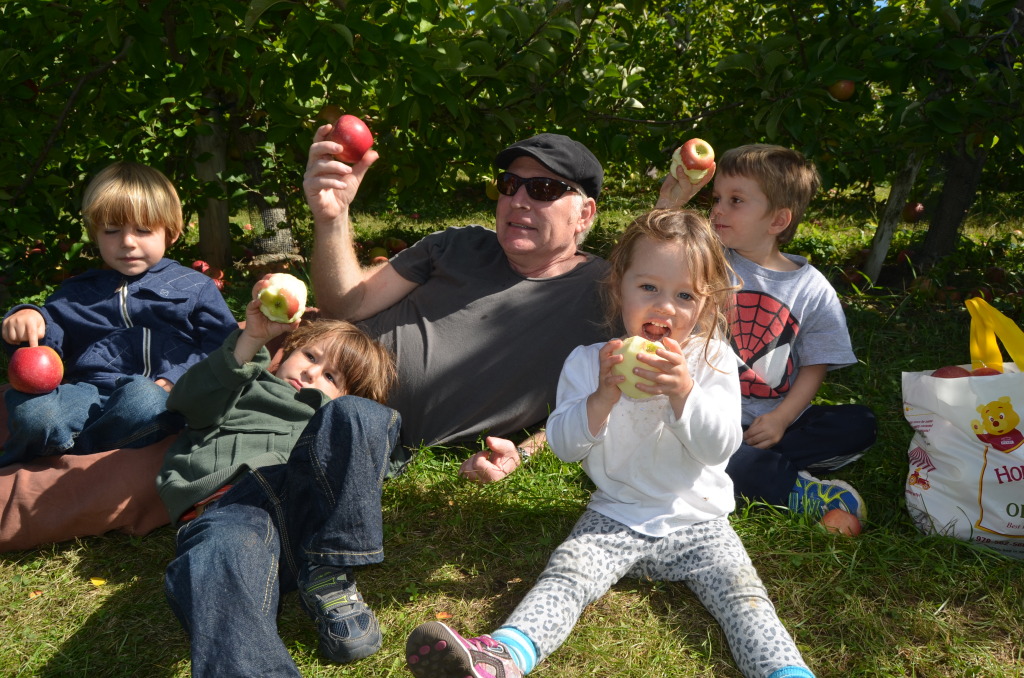 I won't go into detail about how I ate a really and truly "bad apple" which later mucked up my evening.
Fortunately, it seems that the bad apple did not ruin the barrel, as our first batch of apple crisp was sublime (I ate it for breakfast the next day). And speaking of apples, one of the reasons we go to Honey Pot Hill is so that I can get a caramel apple. Once a year, the whole family throws caution to the wind in order to chow down on gooey, sticky, crunchy, caramel-coated goodness.
Just to prove that twins are utterly and inexplicably unpredictable, Twin V declined his caramel apple this year.
Don't worry. Twin S and I did not let it bother us.