Somerville, Mass – One of the many claims to fame of this fair city is that it is the birthplace of Bobby "Boris" Pickett, the voice behind the Monster Mash (it was a graveyard smash). According to his obituary in the New York Times, "Mr Pickett's Karloff impression was forged in Somerville, Mass, where as a 9-year-old, he watched horror films in a theater managed by his father." (Thanks to the Somerville Times for the photo.)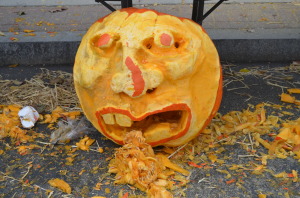 Somerville celebrates this native son at the annual Monster MashedUp, an afternoon of food and fun along Somerville Ave. This is part of the SomerStreets initiative, designed to close streets to vehicles and open them up to "cycling, walking, dancing, running and other modes of activity."  Another excellent effort of the Somerville Arts Council. (Sure, the mayor is cool, but these are the folks that are making Somerville the "hippest" city in America.)
The twins donned their costumes and we headed out for power-tool pumpkin carving, mask-making, face-painting, putt-putt golfing, tree-climbing, and drinking and dancing to live music on two outdoor stages.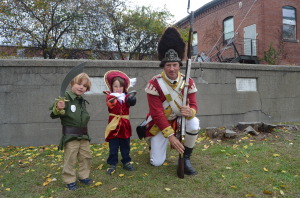 Best of all, the Milk Row Cemetery was open for exploration (a very rare occasion). Somerville High School students and other re-enactors were dressed up as the "ghosts" of various historical people who are actually buried there. This British soldier, for example, was shot by a local resident Osgood Dane, as the Regulars retreated from Lexington. Dane buried his remains in a shoe box, but they were discovered and moved to a proper grave in 1850.
The historical significance of the cemetery was lost on the twins, I think, but they still had a blast inspecting the spooky gravestones and chatting up the ghosts.
Daddio: You guys, these are ghosts of real people who are buried in this graveyard. Do you have any questions you want to ask them?
Twin S: Well, what do ghosts like to have for dessert?
High school student (confused): Um, I don't really know.
Twins V&S: Boo-berry pie!