Somerville, Mass – An amazing thing happens when your children go to school. Suddenly, crisp fall mornings stretch out in front of you–empty hours that entice you out onto your bicycle, to pedal around the Charles River loop or crunch the leaves on the Minute Man Bikeway. Just like in the olden days (BT).
Since the twins were born, I could never justify paying a babysitter just to go for a bike ride. I'm not saying it's not a valid use of time: it certainly is. But when I was paying real (and not  insubstantial) money for somebody to watch my kids, I felt like I should be using that time to earn real money (even if insubstantial).
So bike rides became a family affair–which was also great, but different. We spent many a Saturday morning cycling along the Esplanade, spying on geese, testing out the playgrounds, and watching the trains go over the Longfellow Bridge.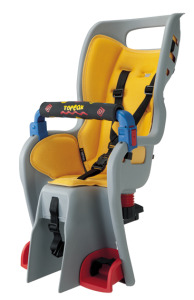 We did a lot of research before choosing our family's bike system. At first, I really wanted a cargo bike, or some other set-up so that I could pedal around town with both twins on board. After much consideration, however, we finally decided that this was not worth the expense, since I did not commute with my kids. We also decided against a bike trailer, as it made me nervous to have the kids so far away, close to the ground and difficult for drivers to see.
We wanted something mainly for recreational riding that would allow us to interact with the kids while on the go. I came to terms with the fact that riding bikes was going to be a two-on-two activity. And finally, after reading many reviews and debating the merits of front-mounting vs back-mounting, we finally decided on the Topeak BabySeat II. Two of them, to be exact.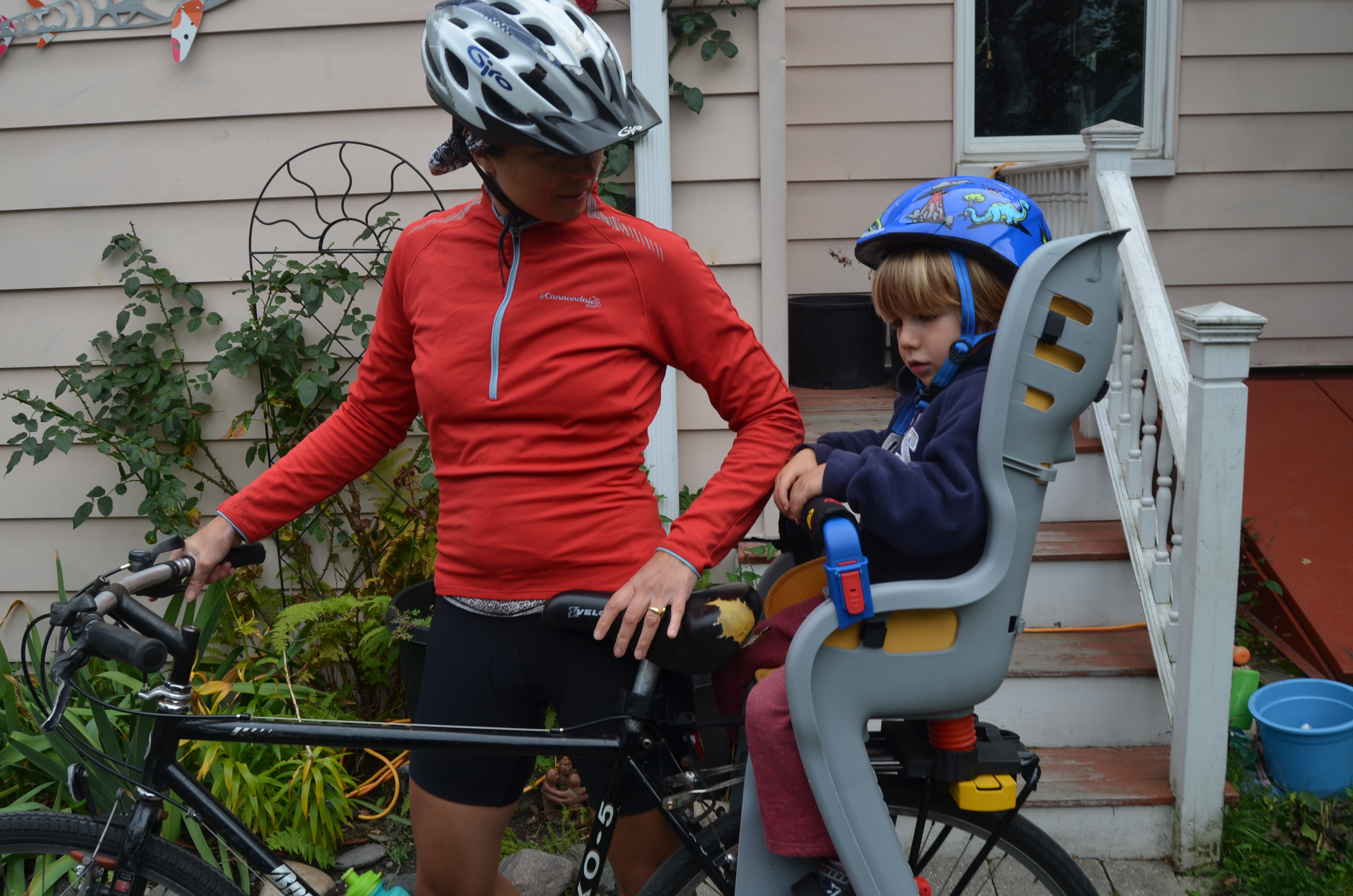 We started riding with the twins in these seats when they were barely one year old. After four seasons, here's what I have liked and not liked about this child carrier:
We had the seats professionally installed, which I recommend for non-techy types. Once the rack is installed on the back of the bike, it's easy to remove and replace the seat. But be careful: it's also easy to do it wrong! I'm embarrassed to admit that I rode around with Twin V hanging precariously off the back of the bike before a stranger stopped me out of concern, and I went back to the bike shop to figure out what I had done wrong. (Non-techy type, right here.)
When installed properly, it's a cinch to ride with a kid in the seat. Unlike front-mounted seats, the Topeak does not hinder pedaling at all. I barely notice the extra weight–except, ahem, when ascending hills.
The trickiest part of the process is getting the kid in and out of the seat. It takes some practice to maintain the balance of the bike while hoisting the weight of a child and navigating the bars and straps. It helps to lean the bike against something sturdy like a fence or a car. A second adult can also be helpful. (In our case, the second adult was always hanging onto the second bike/kid, so was not that helpful).
Fortunately, your child is unlikely to get hurt if the bike falls over. Twin V has fallen over twice. Both times, he was frightened, but unharmed.
I think the shocks are pretty good on these things. That said, Twin S did go through a phase (after a bad bump) when he complained about going too fast. Of course, Twin V usually has the opposite complaint. "When are we gonna go fast, Mama?"
From day one, the twins have loved going for bike rides. They have a decent view from the back of the bike and they are close enough to carry on a conversation with the rider, so there is plenty of visual stimulation and aural interaction. We ride anywhere from 12 to 20 miles, and the twins are usually pretty entertained. Or asleep (even better).
I'm sad to say that we are now coming to the end of the run for the Topeak BabySeat II. We're not that close to the 48.5-lb weight limit, but there is also a four-year-old age limit, and I think my guys' legs will soon be too long for the foot rests. Once the weather warms up again, it might be time for the twins to start doing some pedaling of their own.
In the meantime, I'm cycling more by myself these days, and loving it. And poor Twin V doesn't know what he's missing… this is when we're gonna go fast.