Lincoln, Mass – It's Veterans' Day, so all across America parents are looking for something to do with their kids, who have no school (again). I figured the museums would be packed, so we headed out to our favorite Mass Audubon property, Drumlin Farm Wildlife Sanctuary.
Drumlin Farm was also packed — I'm not sure why I thought it wouldn't be — but at least it's outside so there was room to move. The weather was mild and sunny. Plus, the twins have not been to Drumlin Farm in a while, so they were thrilled to see the animals and get busy with all the other activities.
I was reminded of our last visit to Drumlin Farm, which was for Woolapalooza. That was an incredible experience, with live goat births, sheep herding and sheep sheering demonstrations, and more. I thought it was pretty much unbeatable, but I think the twins had just as much fun today, albeit with more mundane activities like petting sheep, collecting (pretend) eggs, and climbing on rocks. The highlight of the day was definitely conducting a superhero raid on the tree fort "hideout" of some older kids (one of whom told Twin V that Superman is not real, but I don't think Twin V believed him).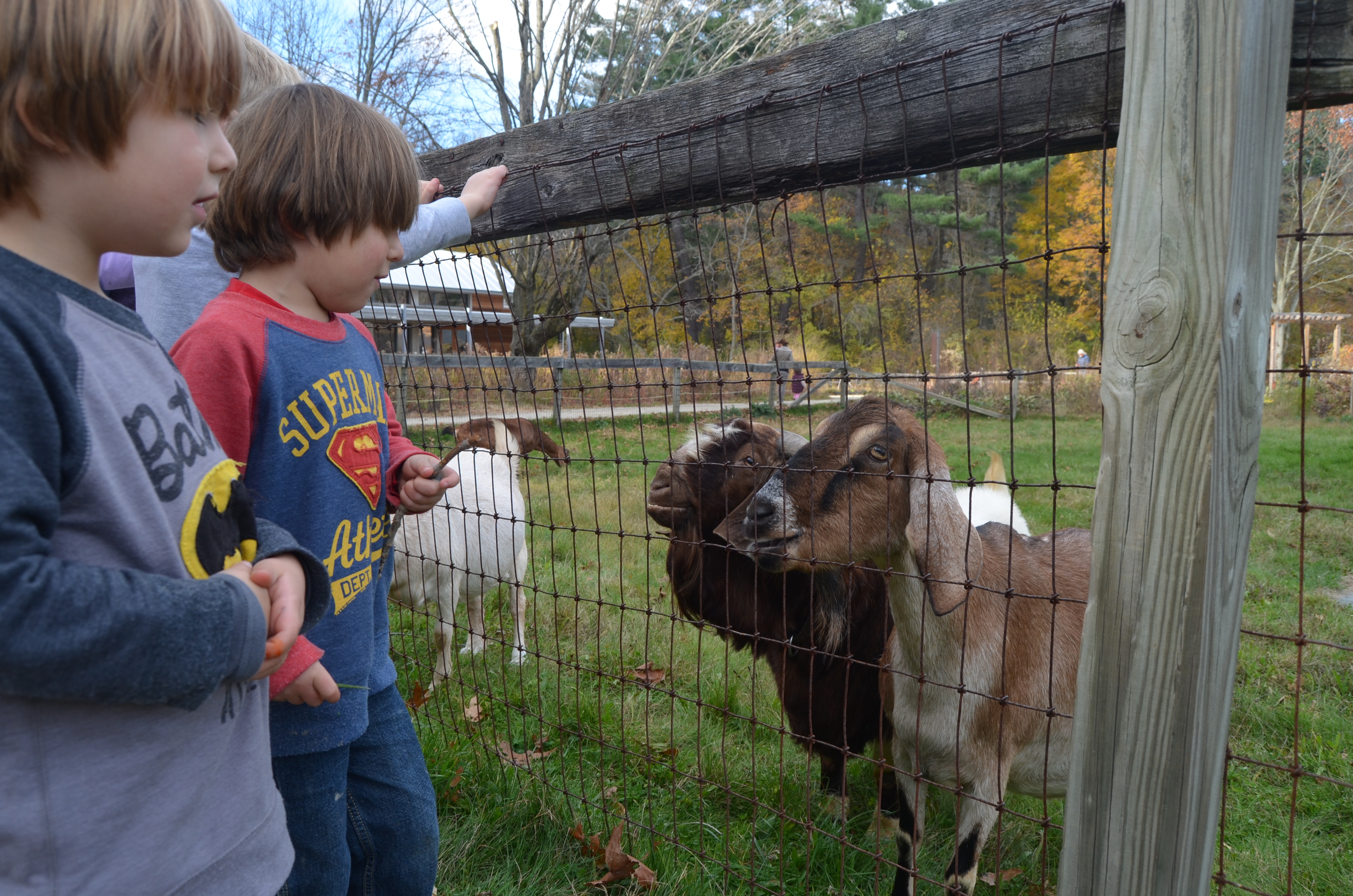 Drumlin Farm has been mostly success stories, but I was also reminded of the last time I tried to go to Drumlin Farm — and did not succeed. I think I was too traumatized by this experience to blog about it at the time. But now, six months later, I have recovered enough to share my experiences. God knows what pearls of wisdom can be gleaned from them, but here goes.
Last spring, a friend and I did a weekly playdate exchange. Once a week, I would drop the twins off at her house to play with her daughter A, while I got some work done. The following week, A would come over to play at our house, giving her mother some free time. The kids enjoyed it and so did the moms.
One week, when A was scheduled to come over, another mutual friend invited us to join her family at Drumlin Farm. She was taking a one-hour class with her younger daughter, and she hoped that I could watch her older daughter E during the class. Afterwards, we could all spend the day together at the farm.
In order to do it, I had to bring A, in addition to my two boys. This sounded like fun, but I don't actually have room for three in my car, so it required my friend to take A in her car (along with her own daughters). So that's what we decided to do, and we made plans to meet at the farm before the class started.
It took a bit of wrangling, but I was quite pleased with the prospects for the day–and impressed with myself for organizing the outing.
Then I tried to leave the house. The boys were dressed, the snacks were packed and our playdate(s) were already on their way. But I couldn't find my keys. Anywhere.
I scoured the house–not to mention the front yard and sidewalk–but they were not to be found.
I finally had to call my friend, who had by now arrived at Drumlin Farm with not one but two extra kids, and tell her that we were stuck at home. Friend fail. Mother fail. All around fail.
For the record, everything worked out, if not as planned. The good folks at Drumlin Farm allowed my friend to bring the two older girls to the class, even though they were not registered. Afterwards, she brought all the kids back to the pink house to play, so the twins were not too disappointed. AND, I did eventually find my keys — about a week later, in the goodie bag I had brought home from the dentist and tossed into the closet the day before. (?)
So, what's the takeaway from this mishap?
Even the disasters make for good stories six months later.
Also: Drumlin Farm. A+