Liberia, Costa Rica – The twins were really excited about coming to Costa Rica. What were they most excited about? When I posed this question, Twin S answered unequivocally, unhesitatingly, that he couldn't wait to go hiking. In fact, he's been talking about going hiking for weeks. "I love going to Costa Rica, because I can go hiking there" — as if we don't have anywhere to hike in New England. I guess I've been depriving this kid of hiking opportunities.
Never mind that he could barely tolerate the one-mile walk from our place in Playa Hermosa down to the beach. The boy wanted to hike, and so he would. Not only that, he would hike a volcano.
Our destination was Rincon de la Vieja National Park, home of the eponymous volcano. It's an active volcano, with an eruption as recent as 2011. You don't see lava spewing from the crater like you used to at Arenal, but it's still too dangerous to hike to the crater (which was very disappointing for the twins).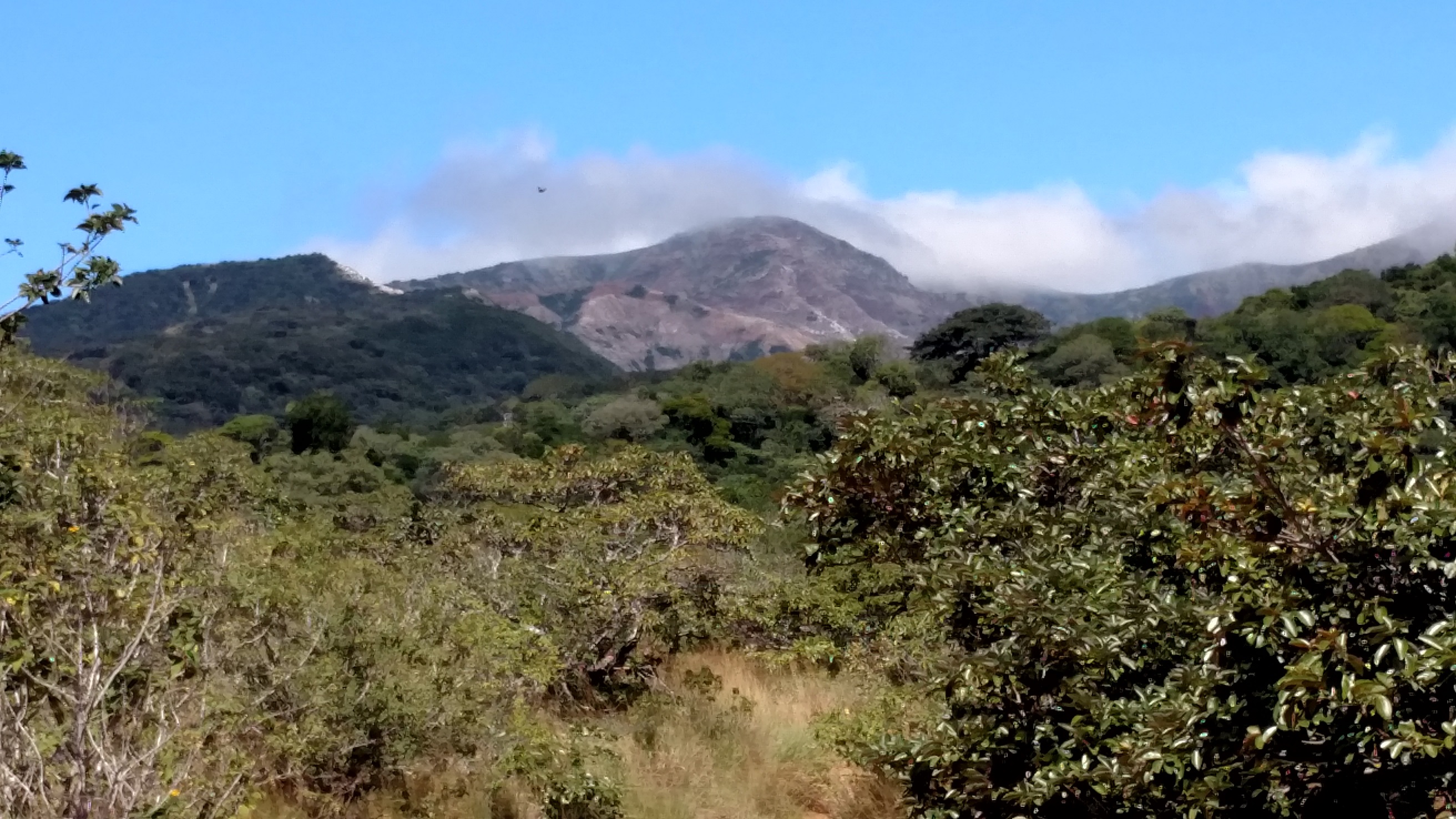 That said, there is plenty of geothermal activity going on here, much of which you can see along a manageable 3km trail known as the Las Pailas loop. It's supposed to take about two hours, which sounded just about right for my guys. Along the way, you can see steaming fumaroles, boiling mud pots and a volcancito. That's some excitement for a 3km trail.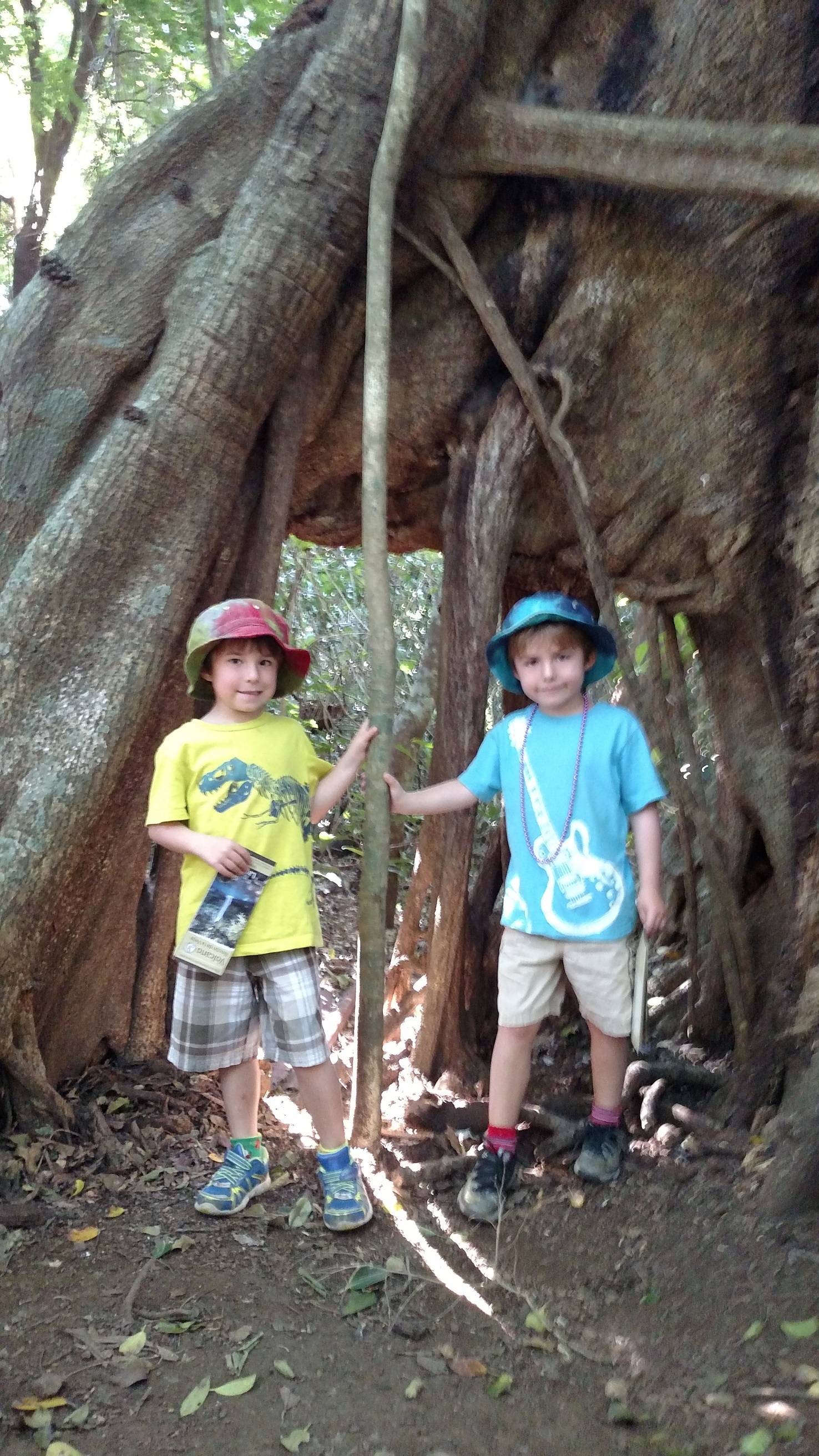 Unfortunately, we were disappointed to learn that half the trail is closed for the season, as they make it accessible. (I'm not sure if the ranger meant "making it more accessible" for everybody or "making it Accessible" with a capital-A. Language barrier.) Anyway, there would be no fumaroles or volcancito for us this time. But we were already at the park–and we had already driven over a private road that you have to pay to use, even though it's 12km of rough, bumpy gravel–so there was no turning back.
The park ranger gave the twins maps — bonus! They love studying maps and trying to use them to navigate. In this case, the map had small pictures of the highlights of the trail, which helped to keep them motivated. (Twin V in particular did not hesitate to plop down unannounced in the middle of the trail–ostensibly to study his map.)
The first part of the hike traversed the dry forest, so it was shady. We posed for photos amid the roots of a giant banyan tree and spotted a mama howler monkey and her baby. (First monkeys of the trip!) Once the trail exited the forest, it was very hot, and it became more difficult to keep the twins on task.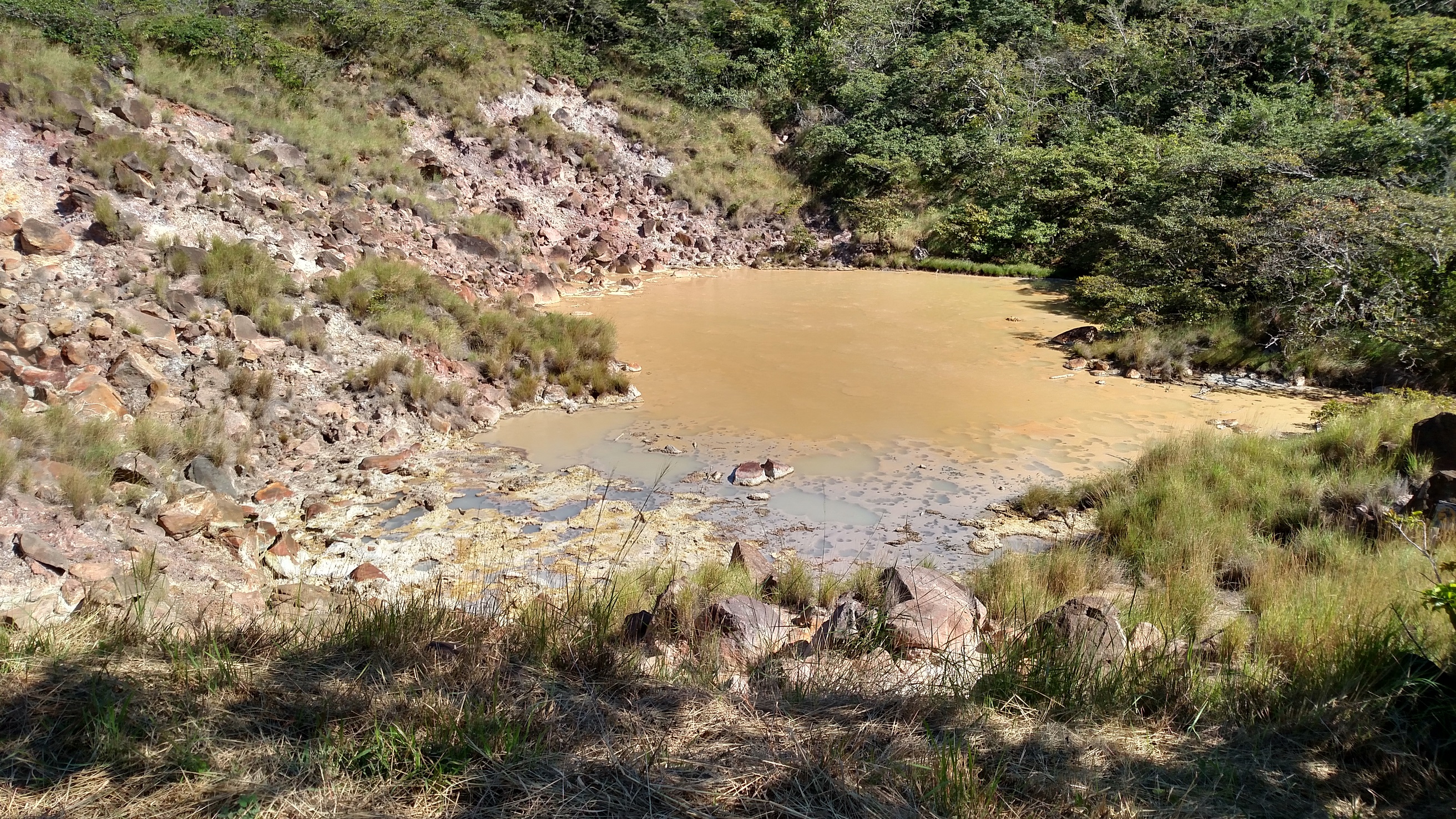 It didn't help that our first stop was a sulfurous lagoon. I thought it was quite beautiful, but a muddy, smelly swamp — seen from a distance — was underwhelming for the twins. That's when Twin S asked me if this hike was going to have anything "right on the trail." It took me some questioning to figure out what he meant, which was — the all important question — are we going to be able to touch anything? I said "I don't know" but I was pretty sure the answer was "no".
Fortunately, the sights got progressive more exciting, culminating in las pailas, or "the pots" –three big pools of thick, oozing, bubbling mud, complete with steam and very evocative sound effects. We couldn't touch, but we got up close and personal with the Mud Monster, as it was dubbed. It's not quite the same as peering into the crater, but that's sort of what it seemed like we were doing. Everybody was impressed. (Twin V: "Are those even real?")
(Too bad you can't hear my improvised geology lesson, which was likely all wrong. I recommend doing a little bit of research before taking your inquisitive children to hike a volcano.)
Normally, the trail continues on to the volcancito and the fumaroles, making a loop back to the ranger station. But due to the work on the trail, we ended at the river. (We crossed the log bridge for fun, but then we had to turn around and cross back.)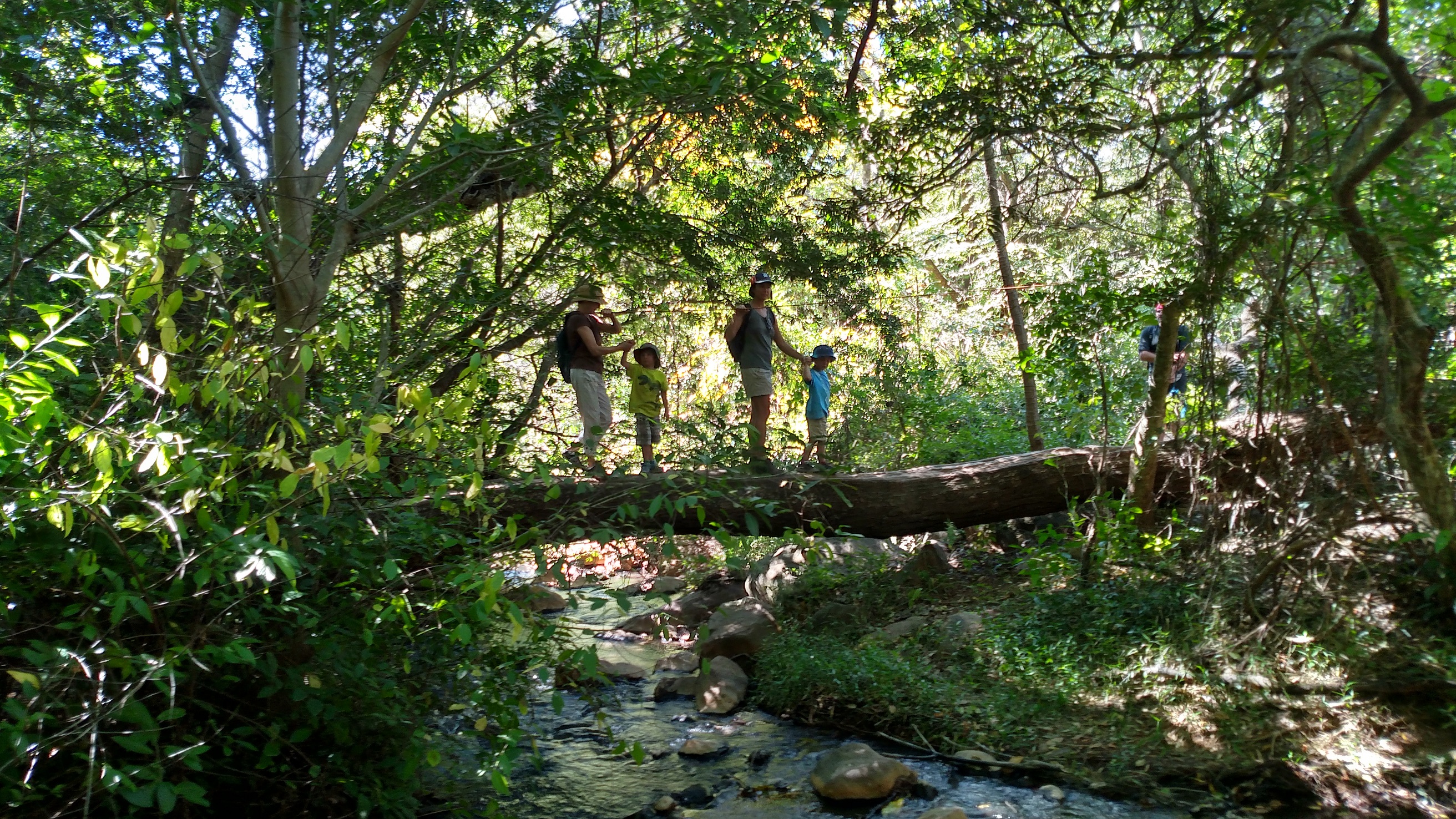 That's when Twin S had his ant run-in. He tried to pick up a small uprooted tree, which must have seemed like the biggest and best stick in the world. (Finally, something he could touch!) Too late, he discovered it was crawling with red ants, which were now swarming his hand and arm. He FREAKED out — screaming, crying, flailing his arms. Fire ants! Their sting is very painful. It was only after several minutes that S calmed down enough to realize he didn't actually feel anything. No sting. No pain. Not fire ants.
After that excitement, we had an uneventful hike back to our starting point. The twins were exuberant about the volcano (and I think S had forgotten about the ants), so I have to call that a success. And on the way home, we stopped at Cañon de la Vieja Lodge cool off in the river and soak in the thermal pools. Now that's my kind of geothermal activity!