Playa Hermosa, Costa Rica – Costa Rica is not much of a snorkeling and diving destination. I mean, there's no reef here. For a tropical country with two coastlines, there is little to see–at least compared to Belize, which is the standard by which I measure all potential snorkeling and diving destinations. I have been disappointed on the Caribbean coast and the Osa Peninsula… but I was not disappointed by the Nicoya Peninsula.
Dive shops welcome snorkelers to tag along on the dive boats; but we hooked up with a local fisherman, who agreed to take us out for a few hours. This had several advantages: it was cheaper; it was shorter (no waiting between dives); and we had the boat to ourselves.
Our first stop was a rocky outpost just off of Playa Hermosa. The twins were excited, having remembered their (mostly) positive experience in Belize. They definitely wanted to be near grownups when they were in the water, but they were pretty content to float around and look at fish that I pointed out.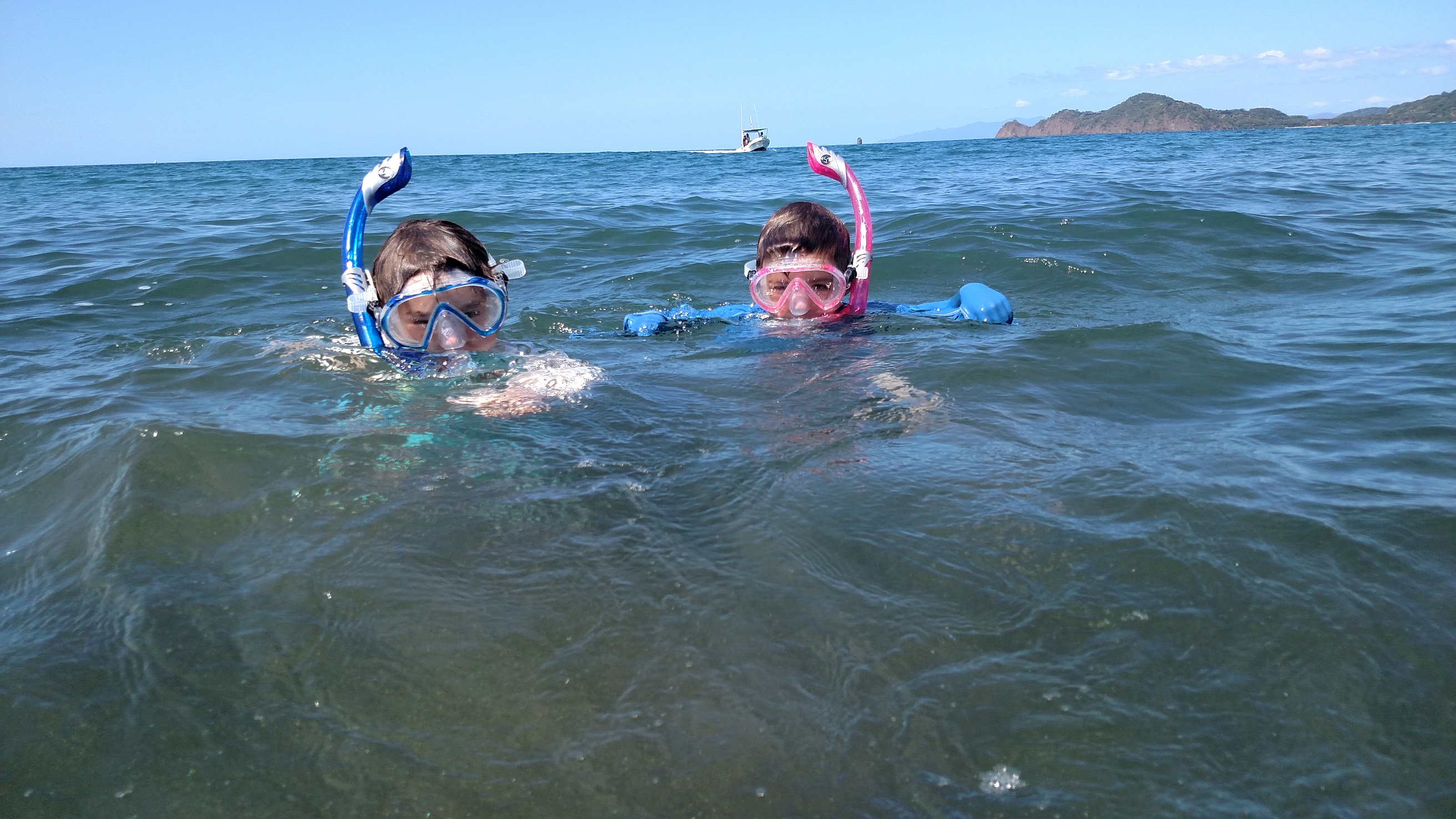 Pacific snorkeling was a treat! I have done almost all of my snorkeling and diving in the Caribbean, so it was so much fun to discover fish I had never seen before, including an undulated moray eel and a king angelfish. (I don't have an underwater camera, but click to see these beautiful creatures.)
All of a sudden, amid this peaceful, passive, pleasant activity, Twin S started to FREAK OUT, screaming about a jellyfish. He was shattered. He kept saying he got stung on his leg, but there was no sign of a jellyfish anywhere. My first instinct was to take him back to the boat, but I could barely bring him anywhere while he was so upset. So I just hugged him in the water for several minutes, until he calmed down. Finally, we could communicate. I asked him to show me where he got stung. There was nothing there. I asked him if it still hurt. He said no. Then we slowly started swimming, still with my arms around him, while I calmly and firmly talked him back down, reassuring him that he was safe, that nothing in the water wanted to hurt him. Eventually, he was able to swim independently and then everything seemed to be back to normal.
Later, when the grandparents asked him what happened, he explained (a little sheepishly) that he saw a bubble that looked like a jelly fish.
This episode was so much like the ant fiasco from the other day. What was going on? I realized, first, that these types of adventures are a really big deal–much bigger than the twins let on. They don't appear to be nervous, but… apparently they are on edge and I need to recognize and honor that.
Also, S's freak-outs were both caused by his anticipation and fear of pain (from fire ants or jellyfish or whatever) — not by anything that was actually happening. He was so far out in front of the the present moment, that he could not possibly respond in a reasonable way. He could only react to the pain that he thought he was going to feel. Clearly, we need to start incorporating some more mindfulness practices and games into our routine. Anyway, S stayed in the water and snorkeled for a while longer. I was really proud of him for recovering and overcoming his fear.
It was a great day. In between snorkel sites, our guide made us scallop ceviche, served right in the shells he had just cut off the rocks. Everybody ate it and loved it, including the twins and the grandparents. (Not sure which of those was the biggest surprise.)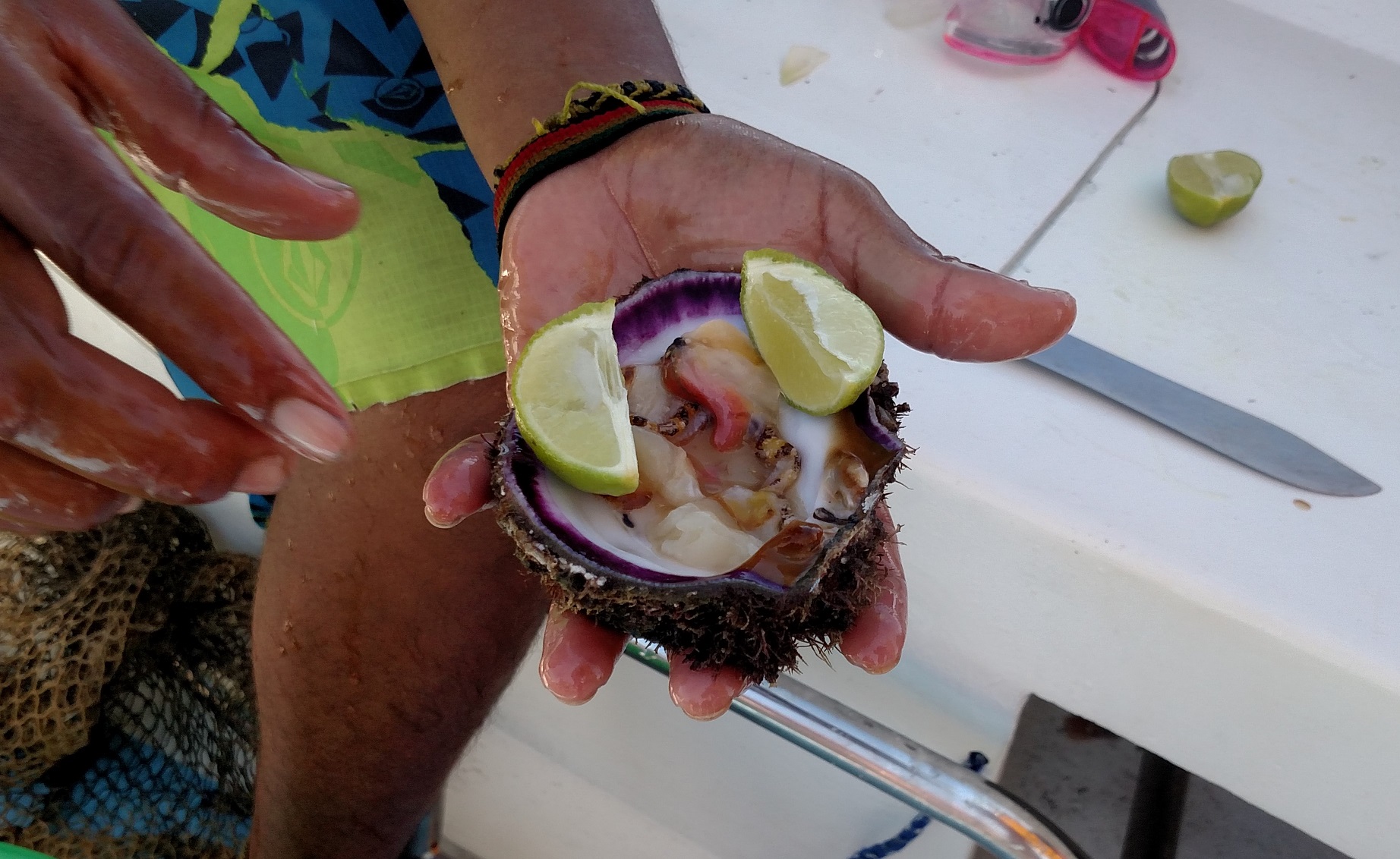 Our second site was near Playa La Penca, a beautiful, deserted beach just southwest of Hermosa. The boys chose to play on the beach while the grown-ups snorkeled. But eventually they wanted to join us–just in time to see one of the highlight species of the day, a round stingray.
But the real highlight was snorkeling with my boys–sharing with them this activity and ecosystem that I love, and watching them fall in love with it too. Pura vida!