Santa Elena, Costa Rica – We made our way from the tropical dry forests and beaches of Guanacaste to the mystical cloud forest around Santa Elena and Monteverde. We climbed some 4,662 feet, most of that on bumpy, windy, narrow gravel roads. Upon arrival, it felt like we had landed on another planet. Up here, the air is cool, wet and windy; and everywhere is green. (Twin S joked "I spy, with my little eye, something that is green… It's everything! Get it?")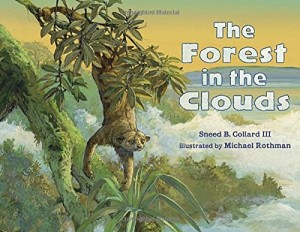 On our first night here, we read The Forest in the Clouds by Sneed B Collard III. (No offense, Sneed, but is that your real name?) I wasn't sure how this book would go over with the twins, as it's a non-fiction description of some of the flora and fauna and climate of the cloud forest. There's no story. But the pictures are gorgeous. And the text is also pretty fascinating, apparently, as my guys were really intrigued by these strange species, like the margay, a wild cat who hunts in the trees, and the golden toad, who disappeared from the cloud forest 30 years ago and nobody knows why. The book explained that the cloud forest is always dripping wet, even when it's not raining. "Squeezing a moss-covered branch is like squeezing a soaked sponge: icy water drips down your arm."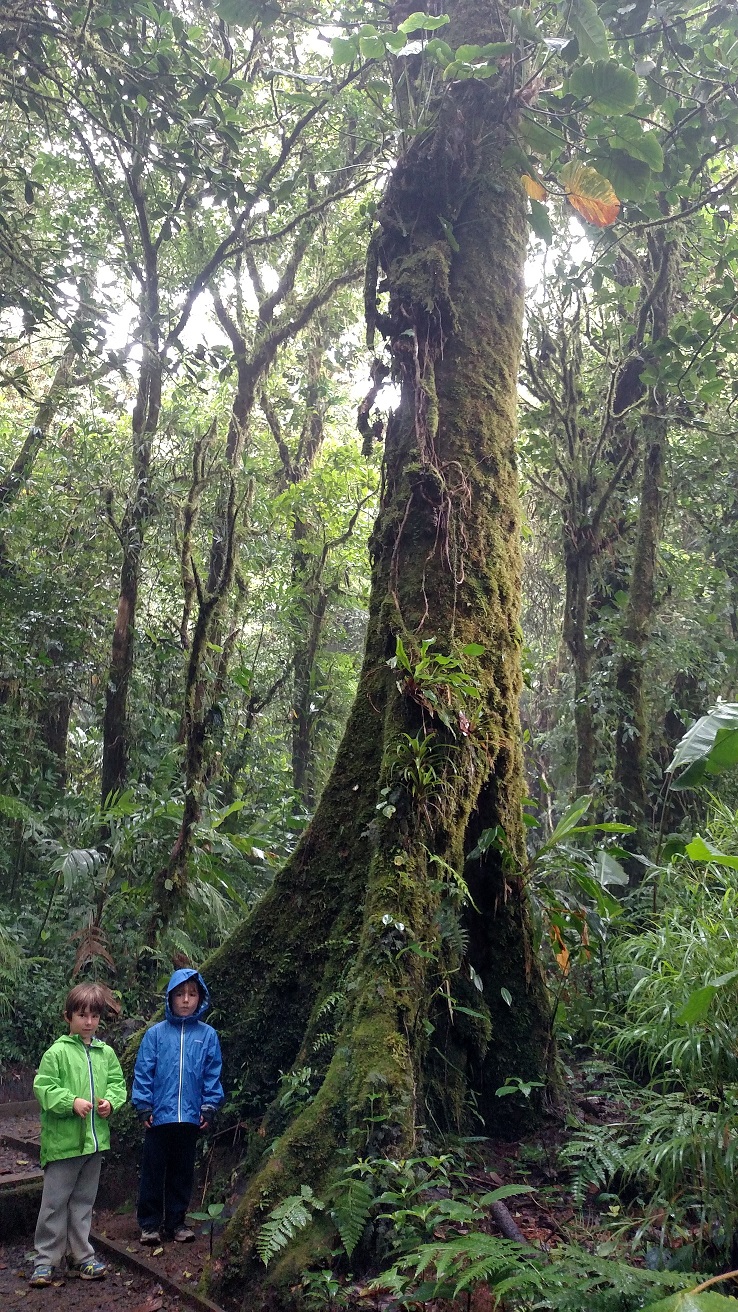 The next day, we climbed even higher to the Santa Elena Cloud Forest Reserve. It was sunny when we left the house, but we drove right up into the clouds, where we were surrounded by a magical, mysterious  mist, swirling with life. We were literally walking around with our heads in the clouds.
The twins were pretty much awe-struck by this otherworldly environment. They gawked at the soaring trees, draped in epiphytes. They picked out every bloom–flashes of color in a sea of green. They squeezed the moss-covered branches to feel the water drip down their arms. They spied on caterpillars. They listened to the bell bird's call (which we later learned was actually some kind of robin — oh well).
The Santa Elena Reserve is lesser known than the Monteverde Cloud Forest Reserve, but it has one major advantage: it is lesser known than the Monteverde Cloud Forest Reserve. Hordes of people descend on Monteverde every day; most of them are in groups. It's inevitable that the place loses some of its magic when you're jockeying for position on the trail. This does not happen at Santa Elena, where we saw exactly five other people in the two hours we were there. We felt like we were the only ones who had happened upon this mysterious, life-abundant world.