Detroit, Michigan – You probably thought America's Thanksgiving Day Parade was in New York, didn't you? Well, you were wrong, it's right here in the Motor City. The Thanksgiving Day parade in Detroit started in 1924 — the same year that Macy's founded the parade in New York — so this event is legit!
I have many happy (and cold) memories of watching the parade from my childhood, so I was looking forward to sharing this event with the twins.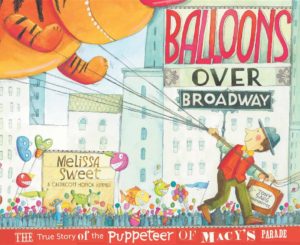 In preparation, we read Balloons Over Broadway, by Melissa Sweet. This is the story of Tony Sarg, the puppeteer who invented the giant parade balloons. (Yes, Tony Sarg was an employee of Macy's, but still.) I like this book for the story — a puppeteer from Prague who goes to New York and makes it big — but also for its problem-solving theme. Tony's ideas changed and grew over the years, as he figured out ways to make the balloons bigger and better. It was also a great way to get the twins excited about the parade.
Now… there's something you should know about my father. As a hobby, he used to sneak into major events, like concerts, political conventions, sporting events, etc. (As an added challenge, he would often try to get on TV, so we could sometimes watch him from home.) Occasionally, we kids would get to tag along for the ride, which gave me the chance to do cool things like see President Jimmy Carter in person at a teachers' convention and attend the 1984 World Series at Tiger Stadium.
And when I was a child, we watched the parade from the roof of a low-rise retail building on Woodward Ave – which was pretty prime viewing.*
Times have changed. The parade route is a bit different. The building could be gone, for all I know. And my dad no longer sneaks into events or buildings. BUT he still has a secret spot for parade spectating. Ladders guarantee a good view; and a warm car is parked nearby so we don't freeze. Plus, a nearby Whole Foods was open for coffee and hot chocolate.
The parade itself was even better than I remember it, with more floats and lots of balloons. Some of our favorites included the Half Pipe, featuring the tricks of the local skateboard crew; 'Twas the Night Before Christmas, with all the "kids" jumping on the trampoline bed; and Mother Goose, who has apparently been in every parade since 1924.
As an adult, I have been to the Macy's parade many times. Don't get me wrong, it's great. But there are no secret spots — at least we don't have one. We watch it crammed in with the crowds on the sidewalk, and once I got groped by the creepy guy standing behind me. There are no warm cars; and if you wait in line for coffee, you'll miss the parade.
So there you have it. The rest of the country may be watching what's going on in New York. But I'll be at America's Thanksgiving Day Parade in Detroit!
* My dad has disputed this memory, claiming that we climbed up on that roof once — a little adventure to pass the time while waiting for the parade to arrive — not as our regular parade-viewing spot. So… my childhood memory may not be the most reliable source.