Henniker, New Hampshire – This could be the year that the twins learn to ski. I mean, really learn to ski. We're not doing any other traveling this winter, so my goal is to transition pandemic field trip to pandemic ski trip. We live in New England, friends. Let's fall in love with winter!
I recognize I will have to expand our pandemic-field-trip radius. For hiking, I was able to focus on state parks within a 30-minute drive of home. In the summer, we went to beaches that are up to one hour away. For skiing, I think I will have to extend the drive time to 90 minutes. We do have some closer ski slopes in the greater Boston area, but I am willing to drive to avoid the crowds.
We are focusing our ski outings in southern New Hampshire, due to Covid travel restrictions in Maine and Vermont. Maine requires out-of-state visitors to get a negative Covid test within 2 days prior to arrival. Vermont requires out-of-state visitors to quarantine. New Hampshire places no restrictions on travelers from other New England states, so that's where we are headed.
For our first pandemic ski trip – during school vacation week – we hit the slopes at Pat's Peak. It was a repeat of last year's outing, especially since we brought along the same ski friend!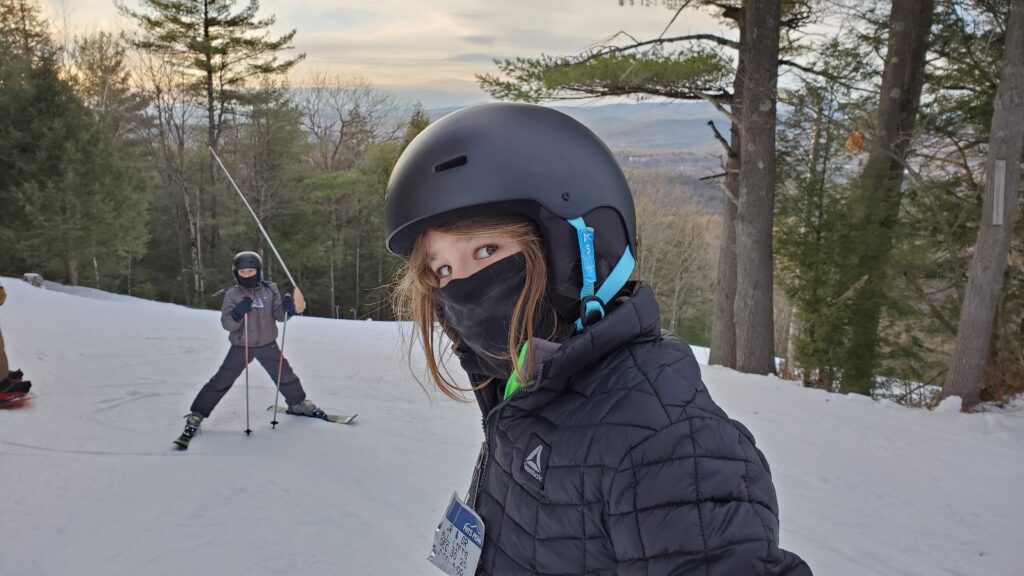 Actually, we had planned to meet another family so we could all ski together. Unfortunately, lift tickets sold out two days ahead of time and our friends were not in time. And that was our first lesson of skiing during Covid: demand is up and supply is down, as ski resorts are restricting numbers on the slopes. The good news is that lift lines are reasonable and the slopes are not crowded; the bad news is that it's easy to get shut out.
The other big Covid adjustment is that ski resorts are limiting access to the lodge. Indoor seating is cut way back, indoor dining requires reservations, and indoor storage for personal gear is limited or nonexistent. At Pat's Peak, we put our boots in an outdoor, unguarded storage area and we brought our own lunch, which we ate in the car. Aside from walking to the car in ski boots (not fun), this was a safe, easy solution.
Pat's Peak was the perfect place for us to rediscover our ski legs. Cautious Twin S stuck with me on the blue slopes all day long. V and friend ventured off to ski some black diamonds. Pat's Peak felt very safe, in terms of Covid, as we only rode the lift with members of our own party and everyone wore facemasks in the lift lines. We barely went indoors, except for gear rental, which was efficient and uncrowded. Pat's Peak also has the advantage of being the closest New Hampshire ski slope.
I feel like this pandemic ski trip was a very positive first outing. Fingers crossed that we turn it into an actual ski season this year!