Canton, Mass – Here's an advantage of having twins: two birthdays for the price of one. Since we only celebrate one birthday per year, we do our best to make it good. We have had some pretty fabulous parties over the years (if I do say so myself… read about the most recent ones here and here), as well as a trip to Universal Studios that was planned completely by Daddio. And of course, we can't forget last year's pandemic Birthday Bike Parade. This year, we decided to splurge (again) and take the kids and their friends to TreeTop Adventures.
In case anybody has forgotten, we are still in the middle of a global pandemic. So the birthday party had to take place completely outside: that was a non-negotiable. I didn't want to hold the party at our local park, where my kids hang out every single day. I wanted this to be something special. And I didn't want to do the party all myself (for a change). So that's how we arrived at TreeTop Adventures.
We went to a similar adventure park several years ago in Finland so we knew what we were getting into. I thought it would be fabulous for this adventurous, athletic group of kids. Imagine a treetops obstacle course, with tight ropes, slack lines, rope ladders, hanging bridges, zip lines, and other kinds of challenges. Participants wear a full-body harness that attaches to a safety tether, so yes, it's safe. There are four levels of courses, distinguished by color, differing by level of difficulty and height off the ground. Our mostly 11-year-old guests would be able to do three beginner and four intermediate trails on their own, plus two advanced trails with an adult. Only the one "expert" trail was off limits.
We took a group of 10 kids to Treetop Adventures on a Wednesday afternoon (half-day Wednesday at school) so it wasn't too crowded. We claimed one of the picnic tables where we had fruit and sandwiches and snacks whenever the kids wanted to take a break. They had to do an orientation, where they learned how to click in and out of the safety tether. And then we let them loose on the ropes course.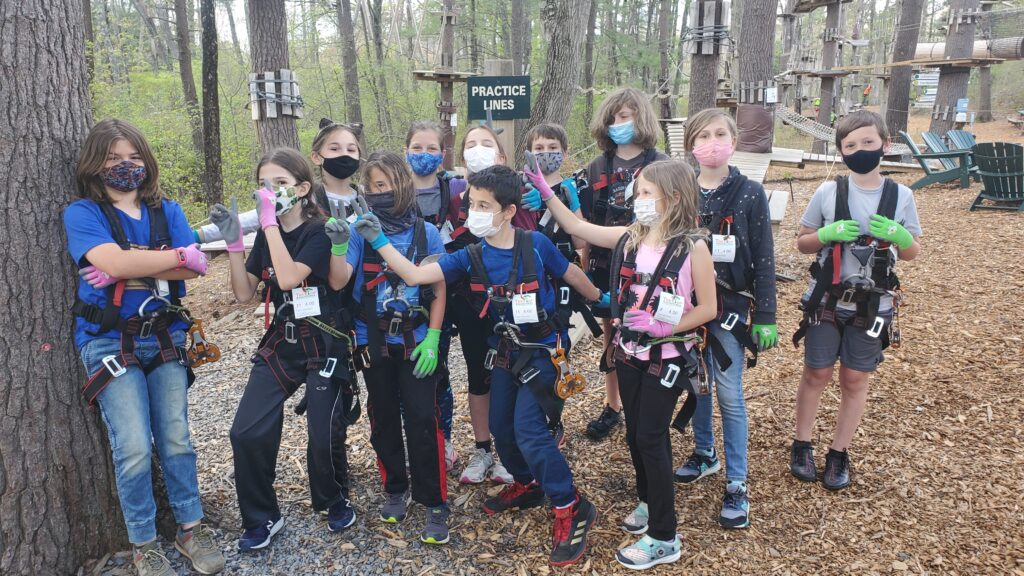 By all accounts, this was a fabulous party. The weather cooperated, and the kids had a ball. The climbers could go at their own pace, choosing their trails and challenging themselves as much as they wanted. Some kids are more adventurous and athletic than others, so this varied a lot. But at TreeTop Adventures there is something for everyone, even the younger siblings that tagged along. Personally, I felt I needed to stay on the ground to manage the party, so I did not climb. But some other parents did, and they reported the advanced and even intermediate trails are challenging and fun.
Incidentally, TreeTop Adventures is not only for birthday parties. In fact, it works out to be pretty expensive for a birthday party, but reasonable for a family outing. We will definitely be back when we need a close-to-home adventure or a special-occasion outing.