Juneau, Alaska – Check out the fabulous view from our place in Juneau–from Douglas Island across the Gastineau Channel to Mount Roberts.
And, you can see the massive cruise ships that dock at the base of Mount Roberts. I'm not a fan of the cruise ship industry, but I won't use this opportunity to complain about it. I will instead acknowledge that Alaska is a big state, and for that I am grateful.
Anyway, near the cruise ship terminal, one can board the Goldbelt Tram, which–for a mere $45 per person–whisks you up to 1800 feet on Mount Roberts. Or, you can do what we did, and hike up for free. Just don't forget your bear spray!
Our very gracious AirBnb host dropped us off at the trailhead north of town. From there, it was a pretty rugged, pretty steep 2.5-mile climb to the upper tram station. The Fog Woman accompanied us, but there were lovely views along the way. The trail was not crowded, but it was well trafficked–in part due to The Nifty Fifty, an organized trail run that was passing through. (Yes, that's right, fifty. As in 50k. There are 10k and 25k options, but some of those people on the trail were running 50 kilometers! What an inspiration for Twin S–and all of us. Sort of makes you want to shut up and not complain about your achy legs.)
Here we are, before and after. (I did make it to the "after", even though I didn't make it into the photo.)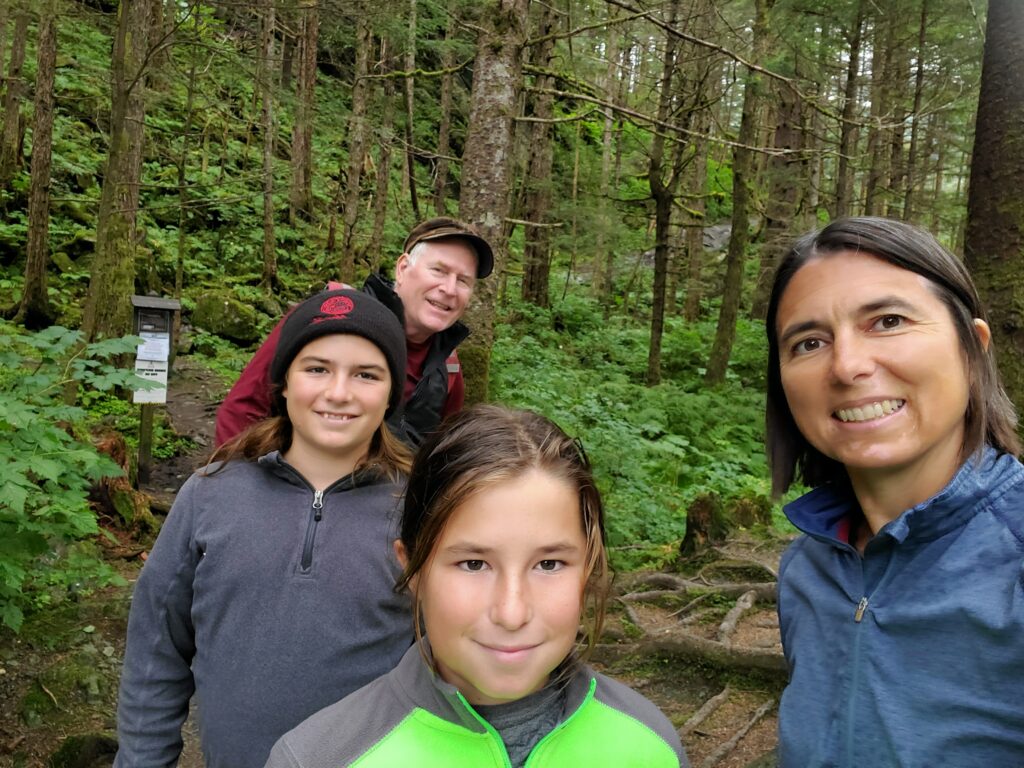 When we reached the tram station (30 minutes behind Twin S), we settled in at the Timberline Bar & Grill for a hard-earned beer (or root beer, as the case may be). Everyone was happy. But not happy enough to continue hiking the remaining 2000 feet to the summit.
Truth be told, it was a hard sell, considering the rewarding vista from the tram station. And, with our receipt from the restaurant, we got a free trip down!