Playa Carillo, Costa Rica – Does it count as "traveling" if you rent a house with a swimming pool and then never leave the pool?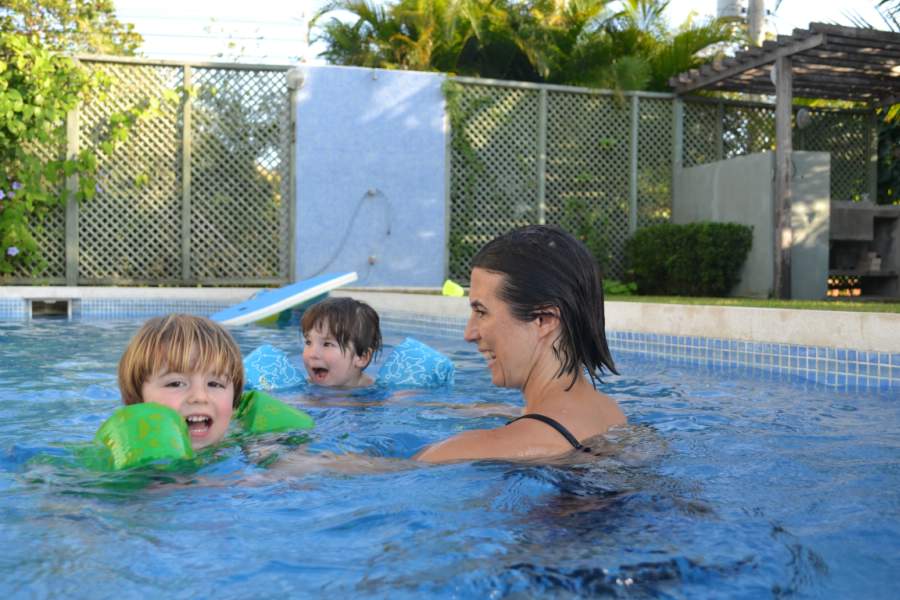 If it does, here's my expert tip of the day for successful travel with kids: stay somewhere with a swimming pool. Duh.
This is probably a good time to do a product review, as the twins have finally had a chance to break in their Puddle Jumpers by
Stearns
. We have the "deluxe" version of the kids' life jacket (which retails for about $25), as opposed to the "basic" version ($20). The only substantive difference that I can see is that the basic version is nylon, while the deluxe is made of woven polyester, which is supposed to be a softer fabric for less chafing.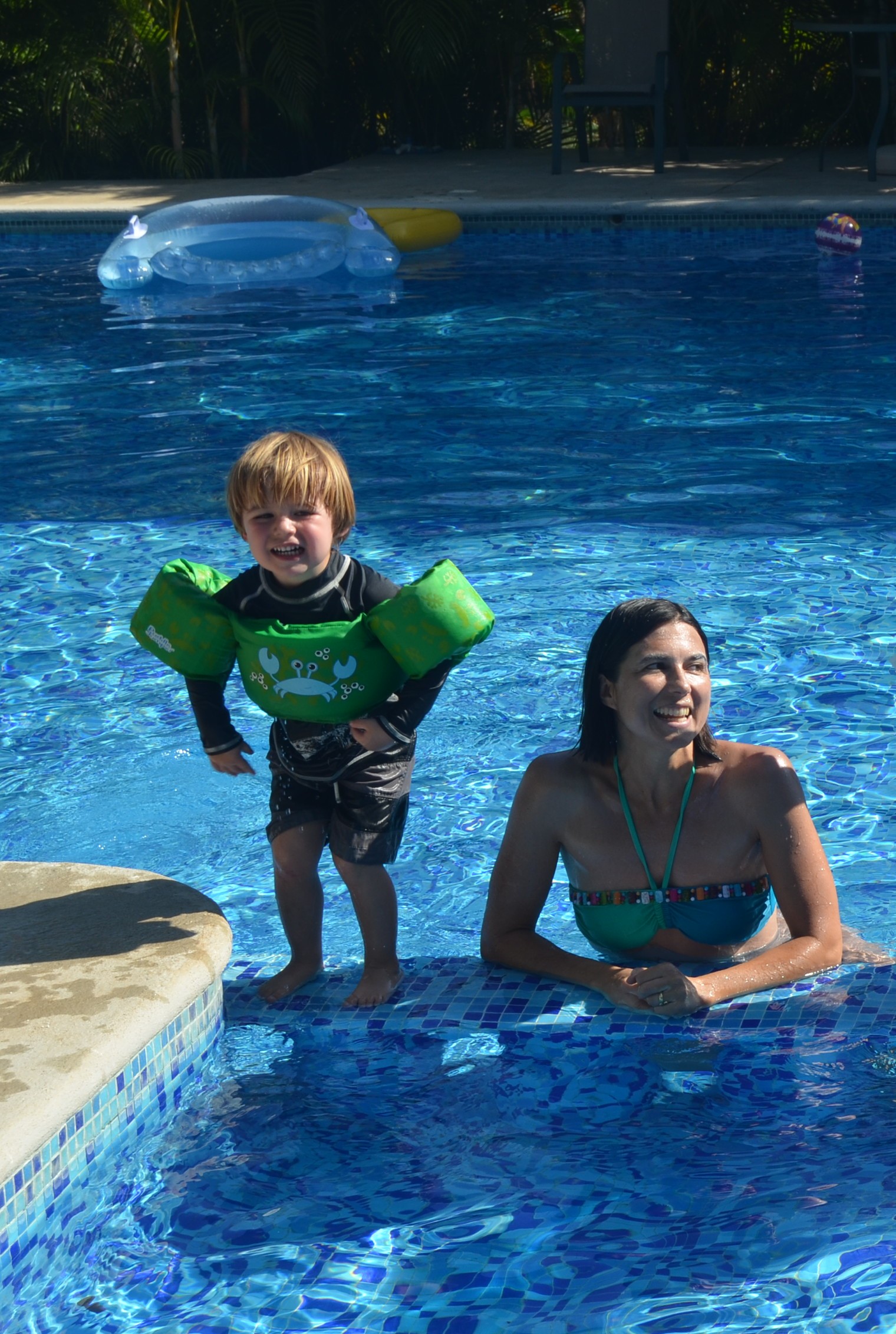 Personally, I was willing to pay $5 more for my kids to have cute, cool marine animals on their chests, as opposed to giant goofy googly-eyed faces. But they didn't get chaffed either, so that's a bonus.
The Puddle Jumper combines the best of old-fashioned water wings and a heavy-duty life vest. The "wings" slip over the arms, while the vest wraps around the torso and buckles in back. There is no belt between the legs.
The jacket does not ride up around the neck. Nor did my boys have any trouble holding their head up out of the water. The Puddle Jumper is supposed to fit kids from 30 to 50 lbs. The twins are slightly smaller than that – about 27 lbs – but the Puddle Jumpers fit them fine with or without their sun shirts.
The twins have been swimming a lot, and they are fairly comfortable in the water, but they have always preferred to be held. At the local Y, we could coax them to hang on to a finger and kick or float for a few seconds; but they quickly returned to the comfort and safety of a parent's arms. They may or may not have agreed to wear the floaties provided by the Y, but it didn't really matter, as they didn't gain any confidence by doing so.
That all changed when they got used to their Puddle Jumpers. It was a remarkable breakthrough, really. Today was basically their second day in the water. By the end of the day they were swimming around completely independently.
I was overjoyed, and so was their swim coach grandfather. And frankly, so were the twins. When they finally realized that they could do it all by themselves – not just float, but actually kick and get from one side of the pool to the other – they did not want to stop.
So, yes, I think we might be spending the rest of the week right here in the swimming pool.