Moscow, Russia – The Moscow Zoo is celebrating its 150th anniversary. In honor of this event, the entire zoo is pod remont, or "under renovation."
Okay, I'm exaggerating. Three-quarters of the zoo is under renovation. There's nothing like spending a day with the children, looking for wild animals in the middle of a construction site.
Anyway, we still had a fun day at the zoo. On previous visits, I have noticed that the animals at the Moscow Zoo are much more interactive than animals at zoos in the States. I think it's because the Russians feed them (despite the signs posted everywhere strictly forbidding this). I am not condoning the feeding of the animals, but I have to admit that I appreciate the their friendliness. It makes for a rewarding zoo experience.
Feeding aside, here are some highlights of the one quarter of the Moscow Zoo that was open:
Duck Pond The zoo is centered around two giant ponds that are teeming with ducks and other water fowl. One of the ponds was under renovation, of course, but the other one was the twins' favorite site at the zoo. The birds are not particularly exotic, but they are fun to watch, especially since it's duckling season.
Nocturnal Animals The twins loved this underground exhibit, featuring bats, mice, owls, chinchillas, shrews, dormice, spring hares and super cute bush babies. I feel like none of these animals would be very interesting in the daylight, but in the darkness of the Nocturnal World, the twins were thrilled to search for and find them. Later, Twin V would tell Daddio that "owls are my favorite nocturnal animal."
Polar Bears Twin V made a special request to see the polar bear, who was a little out of his element on this hot day. But he lumbered out of the water and came over to pose for a picture with us.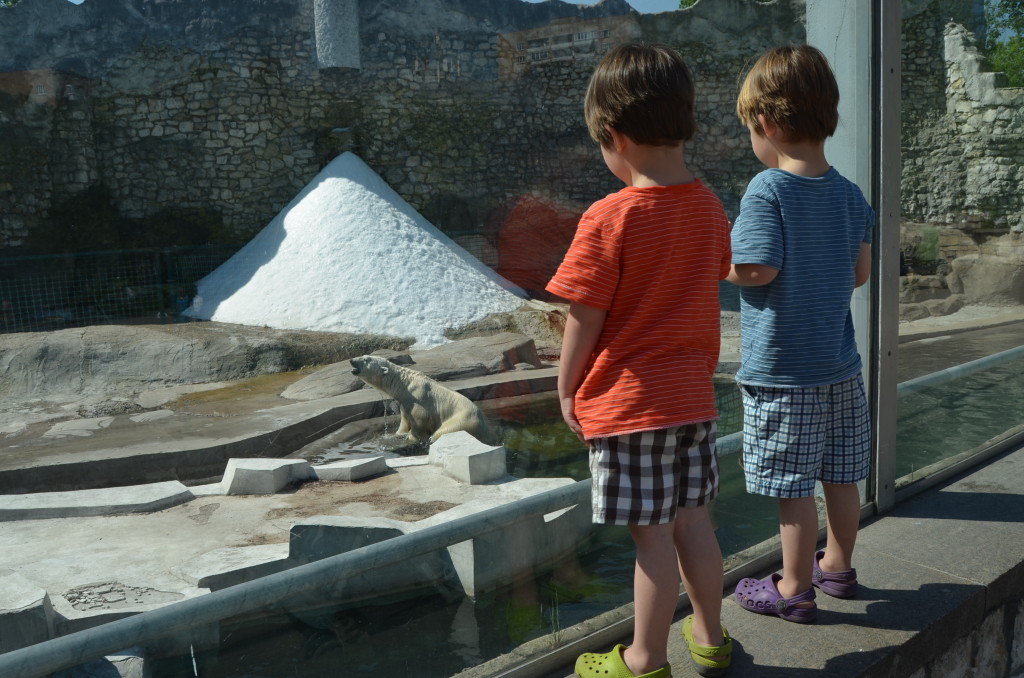 There's also a nice playground, a petting zoo and a dolphin show. You might not think of spending a day at the zoo, if you have come all the way to Moscow for icons and onion domes. But if you are traveling with kids, there are worse ways to spend your time. (It's way more fun than trying to take pictures of Red Square, for example…)