Somerville, Mass – Long before I had children of my own, I remember meeting an acquaintance's bright 10-year-old child, who spent a portion of his summer attending circus camp. I was flabbergasted that a parent would waste valuable time and and money this way. Was his mother preparing him for a career juggling in Harvard Square or what?
Flash forward however many years, and now the twins are enrolled in a Circus Explorers class at our local circus training center, Esh Circus Arts. (What, don't you have a circus training center in your neighborhood?)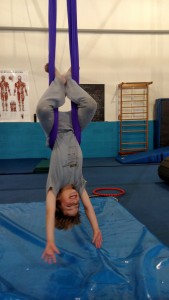 Recalling my reaction many years ago, I feel pretty foolish. I obviously had NO IDEA about a young boy's need (huge need) to expend energy. I didn't appreciate the benefits of developing strength, coordination, balance and self-confidence. And I certainly didn't value the fact that it's FUN to twirl and climb and hang upside-down.
But now I do. And the twins are loving this latest endeavor. Basically, it's just like gymnastics, without the competitive element. (No Olympics for the twins, I guess.) Twin V has perfected his cartwheels, which is winning him some major kudos on the playground. Twin S is crazy about the hanging tricks. And it fits right in with our recent love affair with all things circus (Big Apple Circus, Circus Sarasota, Ringling Circus Museum).
But sure, ask me again in 20 years, when my kids are trying to earn a living by passing hats around Harvard Square. Maybe that computer programming class is a better choice…