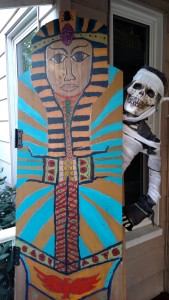 Somerville, Mass – I'm not sure where it came from–perhaps from reading the Magic Tree House series–but the twins have become obsessed with Ancient Egypt. It was a no-brainer that one of them would want to be a mummy for Halloween this year. That turned out to be Twin V. What I didn't expect, is that Twin S would jump on the sand sledge and dress up as a zombie archaeologist. Or that Daddio would be recruited to decorate our front porch like an Egyptian pyramid, complete with mummies and coffins and more.
It's not every monster obsession that can become an educational opportunity but I think we pulled this one off.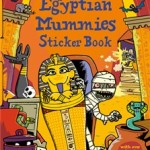 Usborne Activities sticker books are the best! This one on Egyptian mummies combines scary concepts like death and mummies with funny stickers and real-life history. Okay, the "real-life history" part might be a little blurry, but the book does provide a lot of detail about the Ancient Egyptians beliefs and rituals.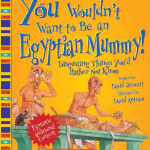 At the library, we found You Wouldn't Want to be an Egyptian Mummy, which details the process of embalming, removing the organs, stuffing and wrapping the body. "Handy hint: A hooked instrument is used to pull the brain out of the head through the nose. Do not try this at home." It also covers what a mummy really really needs for a blissful afterlife, what the tomb robbers are after, and more.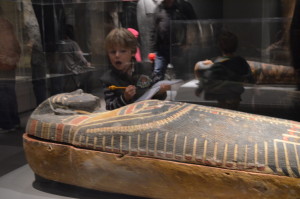 We also spent a day at the MFA, studying the Ancient Egypt exhibit. The boys all brought sketchbooks, and diligently examined and copied the hieroglyphs on the real tombs.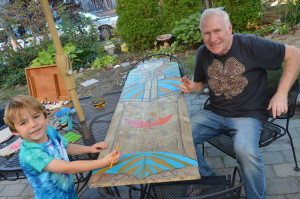 Then Daddio took the twins to Home Depot, where they bought things like wood and saws and they actually built and painted a sarcophagus. Personally, I could not watch the saw being wielded while small children were running wild around the backyard. I just had to go inside and trust… and look how awesome it came out! (Scroll to the top to see the final product.)
And the pièce de résistance: the costumes. Twin V likes to point out that he is not just a mummy, but a pharaoh mummy. ("That's the king of Ancient Egypt" in case you didn't know.) Twin S is the archaeologist who came to dig up his bones and rob his grave–and would live–and die–to regret it.