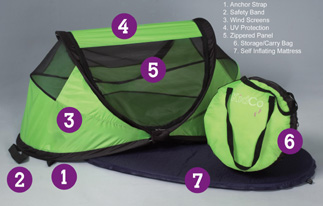 Most used piece of travel gear, right here. Twins have slept in their 
Peapod Travel Tents
 on most of our trips, starting from age 7 mos.
I love this thing. It packs up small enough to fit in a suitcase (14″ x 5″ x 14″) and it weighs less than 5lbs. It has a handy little carrying case. It usually goes up or down in two minutes or less. I say "usually" because we did have one little incident… but I'll get to that.
The Peapod come in a standard size or a slightly larger "plus" size. I opted for the standard because it packs up smaller, and I'm hoping my kids will graduate to real beds before they grow out of them. So far so good. We're planning to use the tents on our upcoming trip to Costa Rica, when the twins will be 2.5 years old.
All versions of the Peapod have air mattresses, but I highly recommend the slightly pricier version, in which the mattress is self-inflating. No need to expend your energy blowing that thing up!
The twins love sleeping in their tents. I will admit that there is some initial resistance if S & V haven't used them for a while. But it passes quickly. (If I remember, I try to set the tents up in their cribs a few days before we leave, so they can readjust to sleeping in the tents at home. This works… if I remember.) When the tents are up, S & V often play in them, read books, store their toys, etc. They are really cozy quarters.
In late 2011, there was a well-publicized incident in which a 5-month-old infant died in a Peapod Travel Bed. According to the child's mother, the baby died of positional asphyxiation, meaning that he suffocated, because he could not push himself away from the tent's malleable, non-breathable siding. As far as I know, this is an isolated incident and the product has not been recalled. But it does raise questions about the safety of the tent for infants. Be safe!
One last word of advice. Do make sure you know how to take the tent down before the moment that you are rushing out to the airport. Once, when we had an early-morning departure, I wanted to let the twins sleep as long as possible before we left. So I woke them up – literally – minutes before we were supposed to leave, planning to pack everything up and jump in a taxi.
The tents really are that quick and easy to put away. Unless you haven't done it in a year and you don't have the instructions and you can't figure out exactly how the damn thing is supposed to fold together.
I'm still not sure what happened, because I didn't have any trouble with the second tent. But the first one either malfunctioned, or I bent it out of whack when I was trying to fold it the wrong way, or something. In any case, it was not folding.  No way, no how. We seriously considered leaving the thing behind, but I couldn't bear the thought of giving it up.
Daddio finally just shoved it into the carrying case, using his body weight and bending the bars every which way to make it fit. I really thought the thing was destroyed – but I just wanted to get it home. I thought I might be able to figure it out once I had the instructions and didn't have the time pressure.
Which I did. And if that little tent didn't just pop back into shape! It is ever so slightly lopsided, but I don't think anybody notices but me.