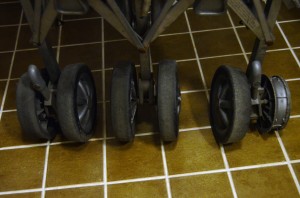 Tallinn, Estonia – According to the official Tallinn tourism website, "Tallinn is a fairytale kingdom for kids of all ages, full of fun filled activities sure to give the whole family a blast!" After that explosive introduction, it goes on to list highlights such as cobblestone streets and easy accessibility. Here's what those cobblestone streets did to our stroller. Accessibility, yeah right sure.
The website claimed that "The Medieval Old Town with its… gabled roofs, high walls and ancient towers is out of a storybook." I'm not saying it's not true. I was just skeptical that the medieval architecture would keep the attention of my twins. But actually, they were intrigued by all the quirky characters adorning the Art Nouveau mansions on Pikk Street, and we soon made a game out of finding and naming the various creatures.
The website went on to suggest "You can imagine knights, jesters or pretty damsels. On any given day you can actually see their descendants wearing Medieval clothing and selling sweet almonds." I think I let out an audible scoff when I read this, especially the part about the damsels. But I have to admit that the twins were thrilled to meet this knight on the Old Town Square. And we all enjoyed the marzipan that I bought (from a store called Marzipan Fairytale, by the way).
Not to be too snarky, as Tallinn really is a delightful place, and we made a special trip because I wanted to share it with the twins and with the grandparents. They all loved it. Next time, I will take care to avoid the cruise ships days, as the narrow streets were extra crowded and the knights and damsels were extra aggressive.
By the way, this is a top tip for all travel, not just travel with children. Cruise ships crowds can turn the most magical fairytale kingdom and into a horror story setting.