Yucatán, Mexico – Of all the Yucatán adventures, none is more enticing than exploring the topaz and turquoise cenotes that dot the landscape. Today, my host Aventuras Mayas took our group of journalists to play in two of these glorious limestone swimming holes, with snorkeling, ziplining and four-wheel driving thrown in for fun. Avenuturas Mayas, indeed!
Cenote Swimming
Our first stop was an enclosed cenote, which is a swimming hole inside a cave (similar to Dos Ojos, where we went two years ago). This is the type of cenote where it's easy to understand why the ancient Maya believed it was an entrance to the underworld. It's dark and mysterious and magical, with many hidden passageways and swim-throughs — for those who know where to go. Our guide kept disappearing underwater and reappearing several long, tense moments later on the opposite side of the cave!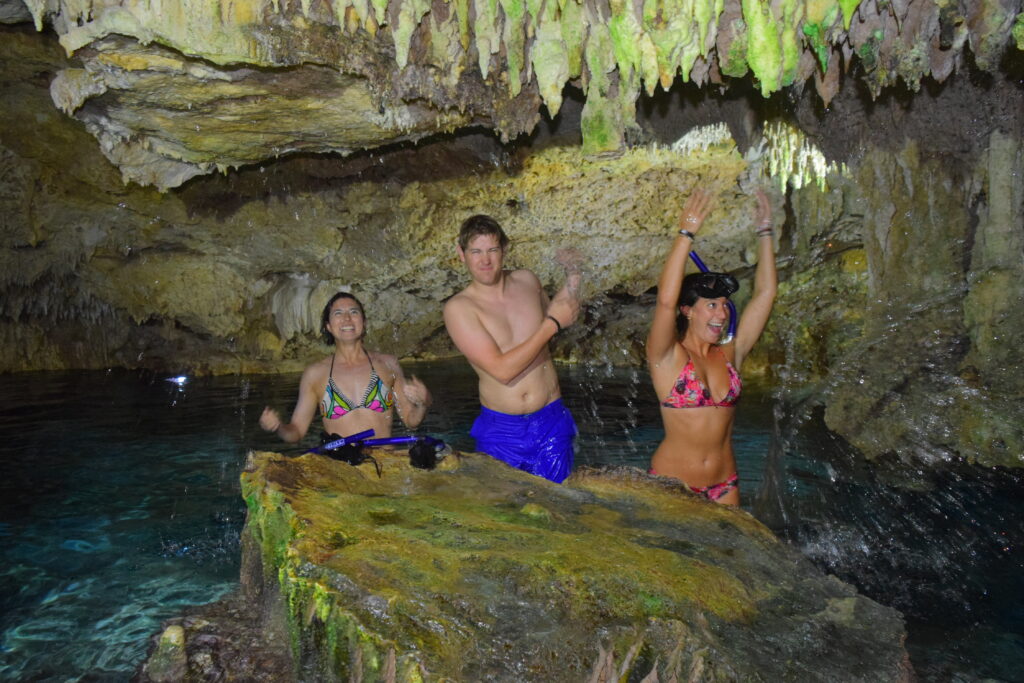 Nearby was another, open cenote, which means it is not in a cave. The vibrant sunlit blue of the water and green of the surrounding jungle were stunning, offering a remarkable contrast to the eerie entrance to the underworld. Here, Aventuras Mayas built a high jumping platform and a fun zipline that drops into the water. The twins would have had a blast. Since they weren't there, I had to do it in their stead.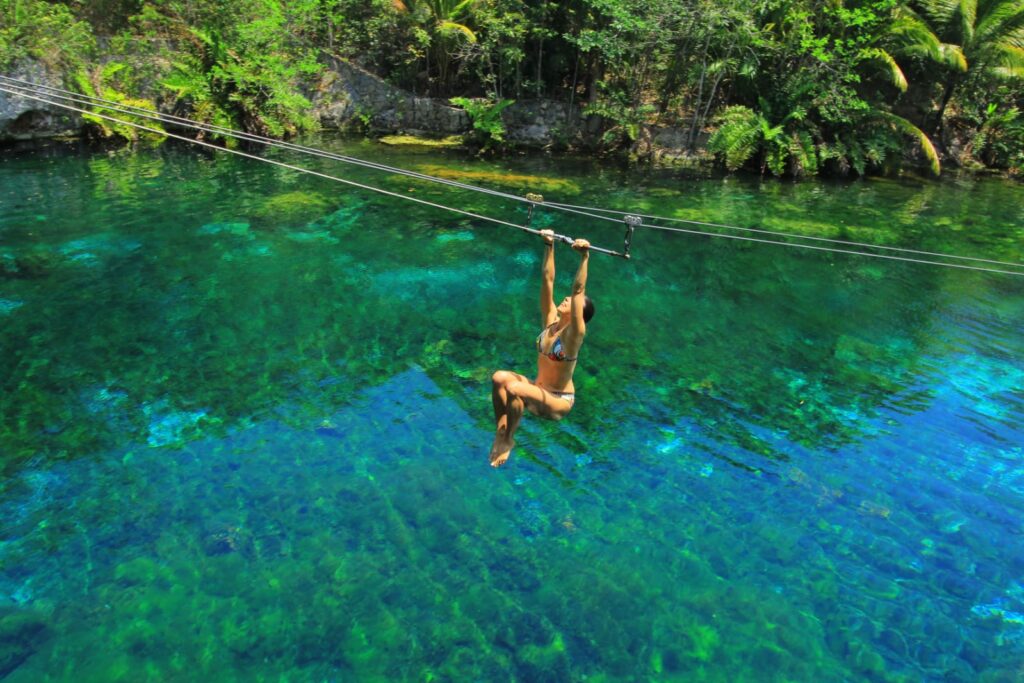 These cenotes are on private property that belongs to Aventuras Mayas, so nobody has access except the guests on their tours. Our groups shared the site with one or two families. This offers a very different experience than Dos Ojos, for example, which does not limit the crowds.
Adventure Awaits
After that we were starving and Mayas Aventuras provided a terrific lunch (tacos, yes!). And then the adventure continued… with ziplining and four-wheel driving in the afternoon. Those kinds of adrenaline rush activities are not my favorite, but I have to admit I enjoyed it. There were some unusual ways to ride the zipline, such as a flying Superman-style and riding in a hammock (very relaxing). Our guide even convinced me to zip upside-down, which–I admit–was a thrill.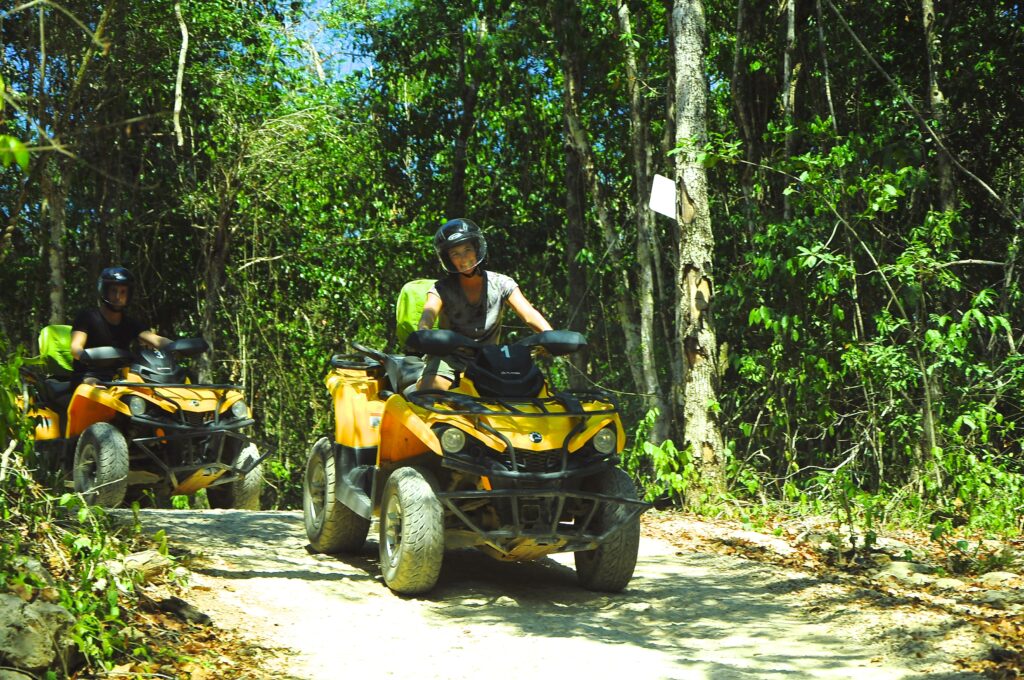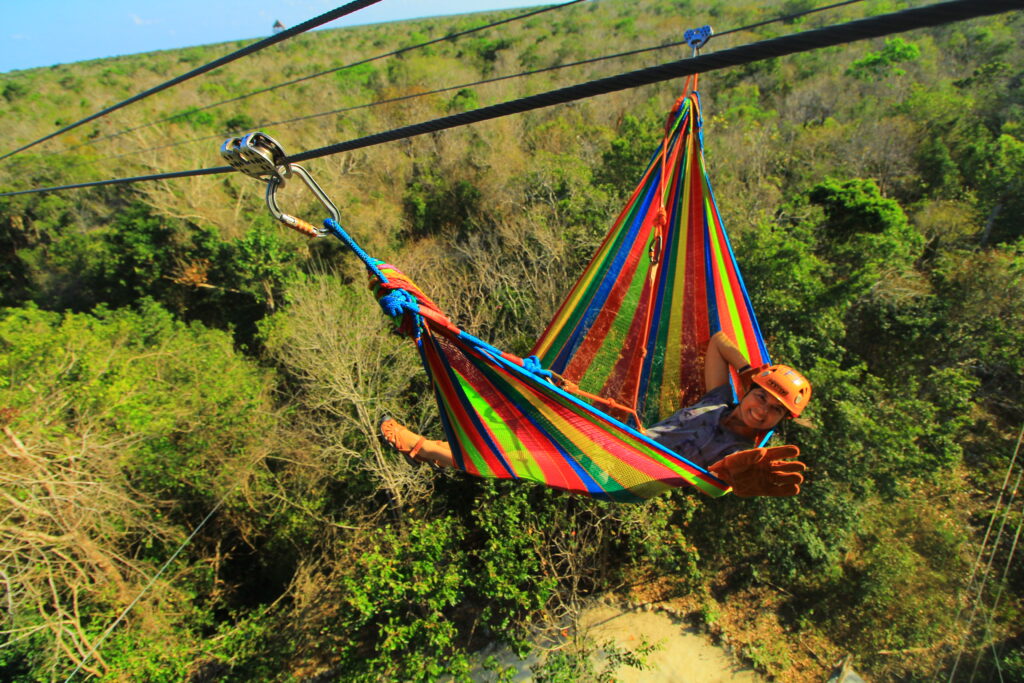 We ended our day at Laguna Yal-kú, a gorgeous blue lagoon with lush landscaping and prolific fish life. Again, this was a much different experience than our last visit with the twins. Just before sunset, we had a the lagoon to ourselves and it was spectacular.
We ended with custom cocktails at sunset and a gourmet dinner overlooking the lagoon. "Oh, Mexico. It sounds so sweet with the sun sinking low…"