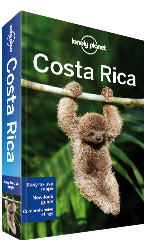 Two words: Baby. Sloth.
Oh my goodness. The newest edition of the Lonely Planet guide to Costa Rica is out! How can you not buy this book and immediately start planning your trip to Costa Rica? (Just in case you are already convinced, I totally understand. Here's where you can buy the book.)
The rest of you might be wondering what Costa Rica has to offer your little people, as if the possibility of spotting a baby sloth is not enough. For you, I will graciously excerpt a chapter of this excellent guidebook. Just to be clear, I contributed several chapters to this book, but I didn't happen to write the chapter on Travel With Children. But it's still good. So read it. Then buy the book. Then buy your plane tickets and get down there. You won't regret it, and neither will your little people.
---
An excerpt from Lonely Planet Costa Rica
Costa Rica for Kids
Mischievous monkeys and steaming volcanoes, mysterious rainforests and palm-lined beaches–Costa Rica sometimes seems like a comic-book reality. The perfect place for family travel, it is a safe, exhilarating tropical playland that will make a huge impression on younger travelers. The country's myriad adventure possibilities cover the spectrum of age-appropriate intensity levels. Plus, the warm, family-friendly culture is extremely welcoming of little ones.
In addition to amazing the kids, this small, peaceful country has all of the practicalities that rank high with parents, such as great country-wide transportation infrastructure, a low crime rate and an excellent health-care system. But the reason to bring the whole family is the opportunity to share unforgettable experiences, like spotting a dolphin or a sloth, slowly paddling a kayak through mangrove channels or taking a night hike in search of tropical frogs.
Best Regions for Kids
Peninsula de Nicoya Excellent beaches and family-friendly resorts make this an ideal destination for families. This is a great place for kids (and their folks) to take surfing lessons.
Northwestern Costa Rica The mysterious and ghostly cloud forests of Monteverde pique children's imaginations about the creatures that live there, while the area's specialty sanctuaries let hem see bats, frogs, butterflies and reptiles up close.
Central Pacific Coast Easy trails lead past spider monkeys and sloths to great swimming beaches at Parque Nacional Manuel Antonio, a busy but beautiful piece of coastal rainforest.
Caribbean Coast The whole family can snorkel all day at the relatively tranquil waters of Manzanillo or Cahuita and set out on a night adventure to see nesting turtles.
Wildlife-Watching
You can't not spot wildlife in Costa Rica. Coatis cause regular traffic jams around Lake Arenal, and scarlet macaws loudly squawk in tropical-almond trees down the central Pacific Coast. Stay a day or two at a jungle lodge, and the wildlife will come to you.
Parque Nacional Manuel Antonio Tiny and easily accessible, a walk through this park usually yields sightings of squirrel monkeys, stripy iguanas and coatis.
Parque Nacional Cahuita Seeing white-faced capuchins is practically assured along the beach trail; go with a guide and you'll probably also see sloths.
Parque Nacional Tortuguero Boat tours through Tortuguero canals uncover wildlife all around, but staying in any jungle lodge outside the village will reveal the same.
Chilamate Rainforest Eco Retreat In the steamy rainforest of the Sarapiqui valley, this family-friendly lodge has miles of trails for easy wildlife-spotting hikes.
Turtle-watching An option on both the Pacific and the Caribbean coast, one of Costa Rica's truly magical experiences is watching sea turtles lay their eggs under the cover of night.
Animal Sanctuaries
Not getting close enough to wildlife in the wild? Animal encounters are guarateed at wildlife sanctuaries or animal refuges. Many of these organizations rescue and rehabilitate orphaned or injured animals for release or lifetime care.
Sloth Sanctuary of Costa Rica With their slow-mo locomotion and Mona Lisa smiles, baby sloths might be the cutest creatures on the planet–and this sanctuary is the best place to meet some.
Fundacion Santuario Silvestre de Osa This boat-accessible sanctuary rehabilitates whatever injured and orphaned animals come their way. Friendly monkeys are allowed to roam freely and love to be petted.
Frog's Heaven A frog-lover's heaven, this tropical garden is filled with all sorts of brightly colored (and transparent) amphibians, including the iconic red-eyed tree frog.
Ecocentro Danaus Walk the trails to look for monkeys and sloths, visit a pond full of caimans and turtles, delight in the butterfly gaden and ogle frogs in the ranarium (frog pond).
Jaguar Centro de Rescate No jaguars here, but you may get to hold a howler monkey or a baby sloth. You'll also see colorful snakes (in terrarium) raptors and frogs.
Beaches
Playa Ocotal Placid, wooded gray-sand beach on the quiet northern end of Peninsula de Nicoya.
Playa Pelada In the Nosara area, this low-key beach has little wave action and big, intriguing boulders.
Playa Carrillo South of family-friendly Samara, this beach can be all yours during the week, and is convivially crowded with Tico families on the weekends.
Parque Nacional Manuel Antonio Beach visits are usually enlivened by monkeys, coatis and iguanas.
Parque Nacional Marino Ballena A yawning stretch of white-sand, jungle-fringed beach, a sand spit shaped like a whale's tail at low tide–and the chance to see whales spouting offshore.
Playa Negra This black-sand, blue-flag beach (meeting Costa Rica's highest ecological standards) has plenty of space to plant your own flag.
Playa Manzanillo Beautiful, jungle-backed beach from here to Punta Mona (about as far south as you can go before you have to start bushwhacking).
Waterborne Adventures
Mangrove tours Kayaking or canoeing through the still waters of mangrove canals can turn up water birds, caimans, sleeping bats and sloths. Try Parque nacional Marino Ballena, around Puerto Jimenez and Tortuguero.
Surfing lessons For surfing lessons specifially tailored to kids, check out One Love on the Caribbean coast; kids' lessons are also offered at beginner beaches in Jaco and Tamarindo.
White-water rafting Family-friendly rafting and `safari' trips happen all year long on Rios Sarapiqui and Pejibaye.
Other Family Fun
Parque Nactional Volcan Poas Has a stroller-friendly walkway along the observation area, one of the few national parks accessible in this way.
Monteverde Cloud Forest Train Kids with trains on the brain will love this scenic ride.
Beachside braids Kids with long hair might like getting their hair braided and beaded by a beachside stylist in Puerto Viejo de Talamanca.
And there's more! Buy the book here…