Chilamate, Costa Rica – Life in this part of the country revolves around the river. It has long been an artery for transportation and trade, a source for fishing and – most importantly for our purposes – the go-to destination for recreation.
Anyone in Costa Rica can tell you that the Sarapiqui River is prime for kayaking and white water rafting, with class III and IV rapids. This is great for adventurous types, but what about my three-year-old twins? Here's what the river has to offer from a preschooler's perspective: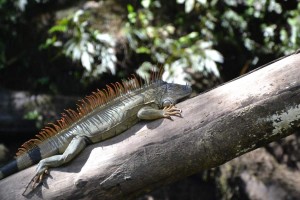 Wildlife River Cruise
We didn't have the best luck when we did this river cruise
last year
, as it was so hot that all the animals were sleeping in the shade. But
now I have seen the region's prolific wildlife up close
… There are no guarantees of course, but on the right day (cool, cloudy) at the right time (early morning or late afternoon) this river cruise is sure to reward keen-eyed kids.
Rafting
Notice I didn't say "white water rafting." We took the twins on a gentle float down the river, from Chilamate to Puerto Viejo, with
Aventuras del Sarapiqui
. There was a little bit of white water at the beginning, which was pretty exciting for the little guys. Twin V perched himself on his knees at the front of the raft, warning us "Rough seas!" After that, the trip was super relaxing – so much so that Twin S dozed off. We stopped for a "pineapple picnic" and a swim in the river, which perked everyone up. We spotted lots of king fishers, herons and a stunning sunbittern, as well as a small caiman. (Later, Twin S would tell some patient guests at the lodge that we saw a big scary alligator with snapping jaws. I think he might have still been dreaming.)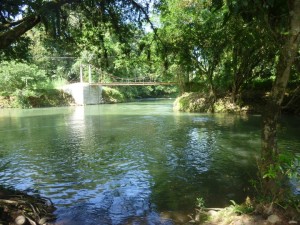 Swimming
Among many other child-friendly features, the Chilamate Rainforest Eco Retreat has an awesome river swimming hole, complete with sandy beach and rope swing (the latter is not one of the child-friendly features, except that it's fun to watch). The twins spent one morning swimming in the river, and then they wanted to go back every day afterwards. They did get a kick out of paddling around in a kid-size kayak, but they could have spent all day just digging in the dirt and kicking around in the water. Simple strokes.