Andover, Mass – We took our first pandemic field trip to Harold Parker State Forest. Unlike some other states, in Massachusetts, we are not stuck at home. At least not yet. State parks and some private reserves are still open for hiking. And we are having a mild spring. So here we have an unprecedented opportunity–plenty of time, little to do–to explore some of these places (aka forced family fun). And as it turns out, many of them are within an hour's drive (or less) from our home.
I never heard of Harold Parker State Forest before, even though it is exactly 30 minutes from our house. The parking lot was practically empty. We did not see another soul on the trail. (Hooray for social distancing!)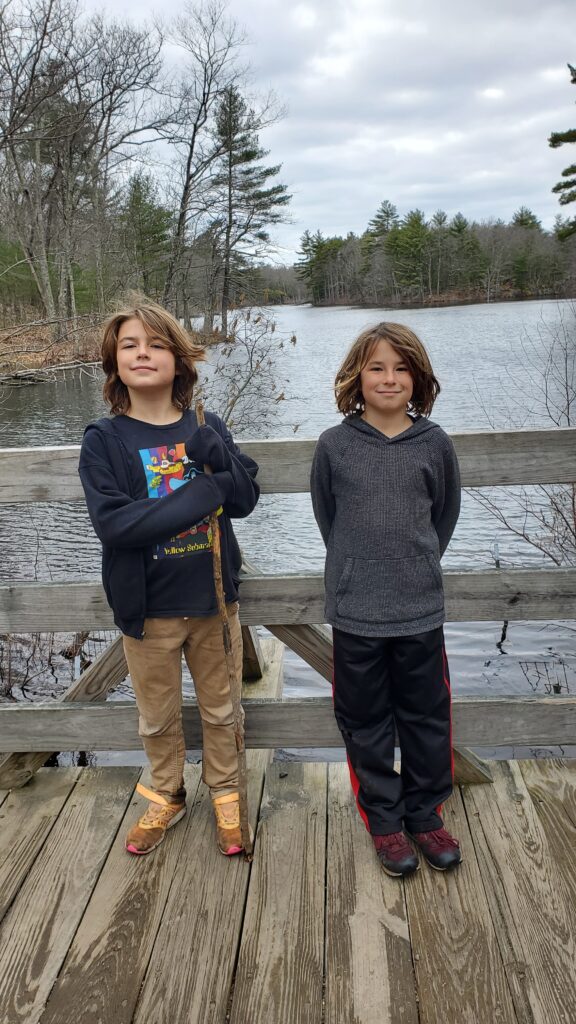 I chose the 6-mile yellow-diamond trail, which was too long for Twin V. But it wasn't really too long. I mean, he got a little tired and a little bored, but he was totally fine. (I know, I better be careful or he won't want to come with me next time.) Meanwhile, Twin S was in his element. He loves blazing the trail, leading the way, inventing adventures. He said it was the perfect distance and he wants to go again next week.
(Aside: I posted this photo on social media and an old high school acquaintance commented. "This is some Parker Stevenson and Shaun Cassidy The Hardy Boys level shit going on right here. Did they solve the secret of the old mill?" Spot on, friend. Spot on.)
We didn't see much wildlife. But then–just when I realized we had missed a turn and we had to backtrack and V was starting to get cranky–we startled a barred owl out of a nearby tree. It swooped across our path and settled on a branch down the trail, still in plain sight. Both boys let out an authentic "Wooooow!" as we stood and admired this majestic bird.
Overall, Harold Parker State Forest was an excellent first outing. The twins talked a lot about video games, but I didn't mind too much because I didn't have to pay attention. I tried to cut the hike short for V's sake, but my navigation skills failed me so we completed the full trail. But it didn't matter: both twins were engaged and entertained for three-plus hours, and tired and satisfied when we completed the loop.
We can't do much during this global pandemic, but at least we can go hiking–one of the best kinds of forced family fun.