Boston, Mass – Boston Magazine has tapped into the region's literary history to uncover the allure of March in New England. Or lack thereof.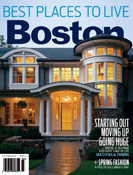 "Here in Boston, we can't be blamed for having mixed feelings about the month of March. It contains the official start of spring, and yet almost always dashes our hopes for the end of the cold-weather season. No wonder, then, that throughout history, locals have found increasingly blunt ways to say the same thing: Is winter gone yet?"
The magazine goes on to quote the greatest voices of the New England literary landscape – James Fenimore Cooper, Henry David Thoreau, Robert Frost… and, ahem, yours truly.
Check it out
.