Boston, Mass – This is what Saturday should look like.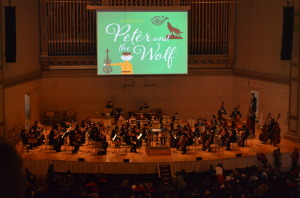 We took the twins to Symphony Hall for the annual performance of Peter & the Wolf, by the Boston Youth Symphony Orchestra. This is an annual event (read about our past experiences at BSYO family concerts here and here), which the boys look forward to and enjoy. In anticipation of this concert, we listen to Peter & the Wolf for about two weeks straight–but when the time comes, they know which instruments and which themes represent which characters. And they sit still and listen throughout the whole piece, just waiting for that wolf.
This year, the BSYO also performed a movement from Dvorak's New World Symphony. This unfamiliar piece might have lost the twins, but the maestro gave us a quick recap of the song's story. And then there were images of Native Americans broadcast up on the big screen, to give the kids something to look at. Also, they had lollipops.
Afterwards, we went for lunch at Ginger Exchange. We occasionally get sushi from the Inman Square location, so I was thrilled to discover a new second location right across the street from Symphony Hall. You might not think of a sushi restaurant as being family-friendly; think again. We were greeted with a smile, we were seated in a spacious booth in the farthest corner of the restaurant, and nobody blinked an eye when the twins hung around gawking at the huge bubble water wall with changing-color lights. Most importantly, the food arrived super fast and the twins devoured edamame, avocado salad, and pad thai. Twin V also ate seaweed salad (!). (It's not exactly Chinatown, but it's something.)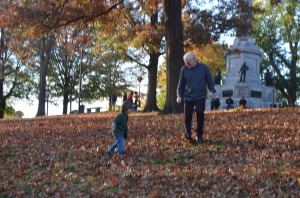 After lunch, we figured the twins needed to run around. And the sun was shining! The air was crisp! It's the glorious fall! There was not a lot to occupy them on the Christian Science Plaza, so we ended up downtown (and we found a parking spot, which was some sort of miracle). We spent the rest of the afternoon in the Public Garden and on the Boston Common acting like tourists in our own city–frolicking in the leaves (which are still gorgeous), watching the buskers (who were out in full force), and playing at the Tadpole Playground (which was packed). Daddio even slipped away to browse for a few minutes at Brattle Book Shop, one of the best relics from bygone days.
We came home exhausted, invigorated, and filled with Boston pride. This town is pisser in the fall.