Somerville, Mass – In the past six months, the twins have turned into LEGO fiends. They are pretty good at following the instructions to put together a Bat Cave or Pirate Cove or whatever the Lego kit entails. But then, they can spend hours constructing creations of their own invention, like space ships, hideouts, aliens, etc. They also can spend hours perusing the Lego catalogs that come with every kit. They are not dumb about marketing, those Danes.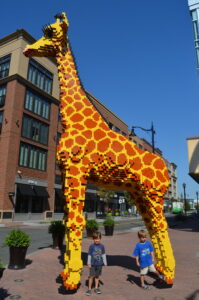 Anyway, it was finally time to go check out the Legoland Discovery Center, which opened in Somerville last year. Fortunately for us, we bought the tickets and told the twins we were going exactly one hour before we left. If we had given them any more time to look forward to this outing, we might have had to cancel the whole thing. They were crazy excited and took the expression "can't wait" to new literal heights. Fortunately, the car ride was only 15 minutes.
On a Monday morning in August–at the second time slot available–it was not crowded. Tickets do specify a timed admission, so that must help to mitigate the crowds, even on busier days.
After having your picture taken (of course) an elevator whisks you to the second floor for a highly annoying, fast moving, very loud introductory video. The video didn't provide any actual information; I think this was another crowd mitigation strategy. In our case, we were the only ones watching it, so it was pointless.
Then you enter another room with four huge screens giving a so-called Lego Factory Tour. This is basically another highly annoying, fast moving, very loud video. This one is interactive, and you have a chance to learn about how Legos are made, design your own Lego characters and make funny Lego faces. The concept has potential to be fun and informative, but the actual experience was painful. The twins had no idea what was going on. The HUGE screen was right in front of their faces, the images were moving so fast, and the voices were so loud and high-pitched they were impossible to understand. They both just stood and stared dumbly at the screen. Daddio and I looked at each other in horror: how much of this sensory overlook could they (and we) take?
Fortunately, it was short. Once the video was over we were released from captivity and allowed to continue to the rest of the exhibits at our own pace. Thank goodness.
The first attraction was the Kingdom Quest Laser Ride. Way too fun. You ride through the kingdom, using a laser gun to shoot Lego trolls, skeletons, spiders and bats. The more you shoot, the higher your score. Twin V could have sat on this ride over and over, for the entire duration of our stay at Legoland. He loves action and adventure. He loves scary stuff. And he loves shooting things. He was in his element. Twin S pretended to be scared, as he does, but he had fun too. We went on it again. After two rides, Daddio and I insisted on continuing to see what else they had at the Legoland Discover Center, but we promised Twin V that we could come back to the Kingdom Quest Laser Ride on our way out. Actually, I think we went on it eight times before our day was done.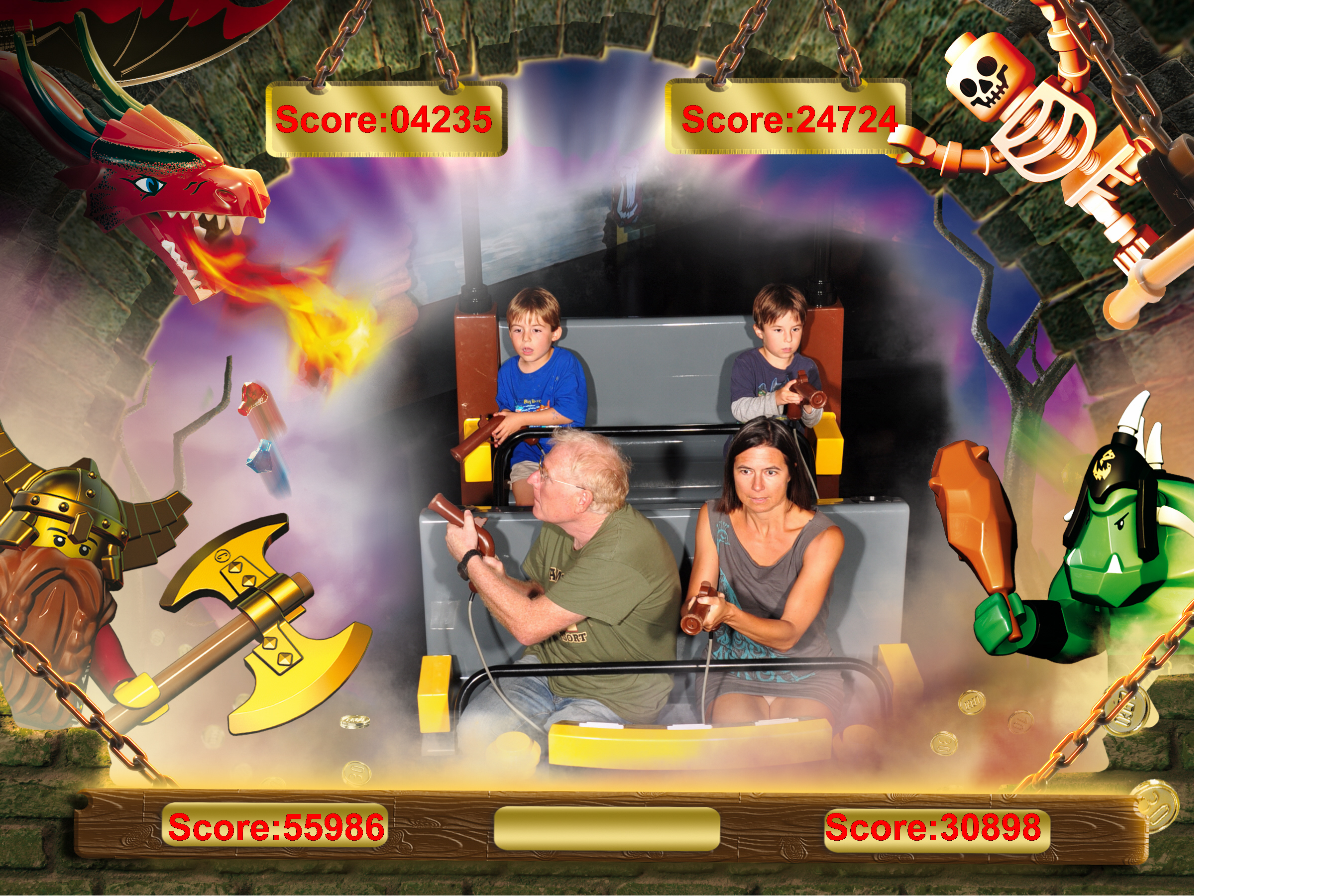 The next attraction–and my favorite–is called Miniland. It's Lego versions of all the best Boston landmarks. Many of them are interactive, so you can race the sculls down the Charles River, play "baseball" pinball at Fenway Park, and shoot the cannons from the USS Constitution. And since Legoland is in Somerville, they sort of had to include our best historic landmark, the tall tower on Prospect Hill. (I will refrain from posting my Miniland Photo Essay, but that's actually where I took the most pictures.)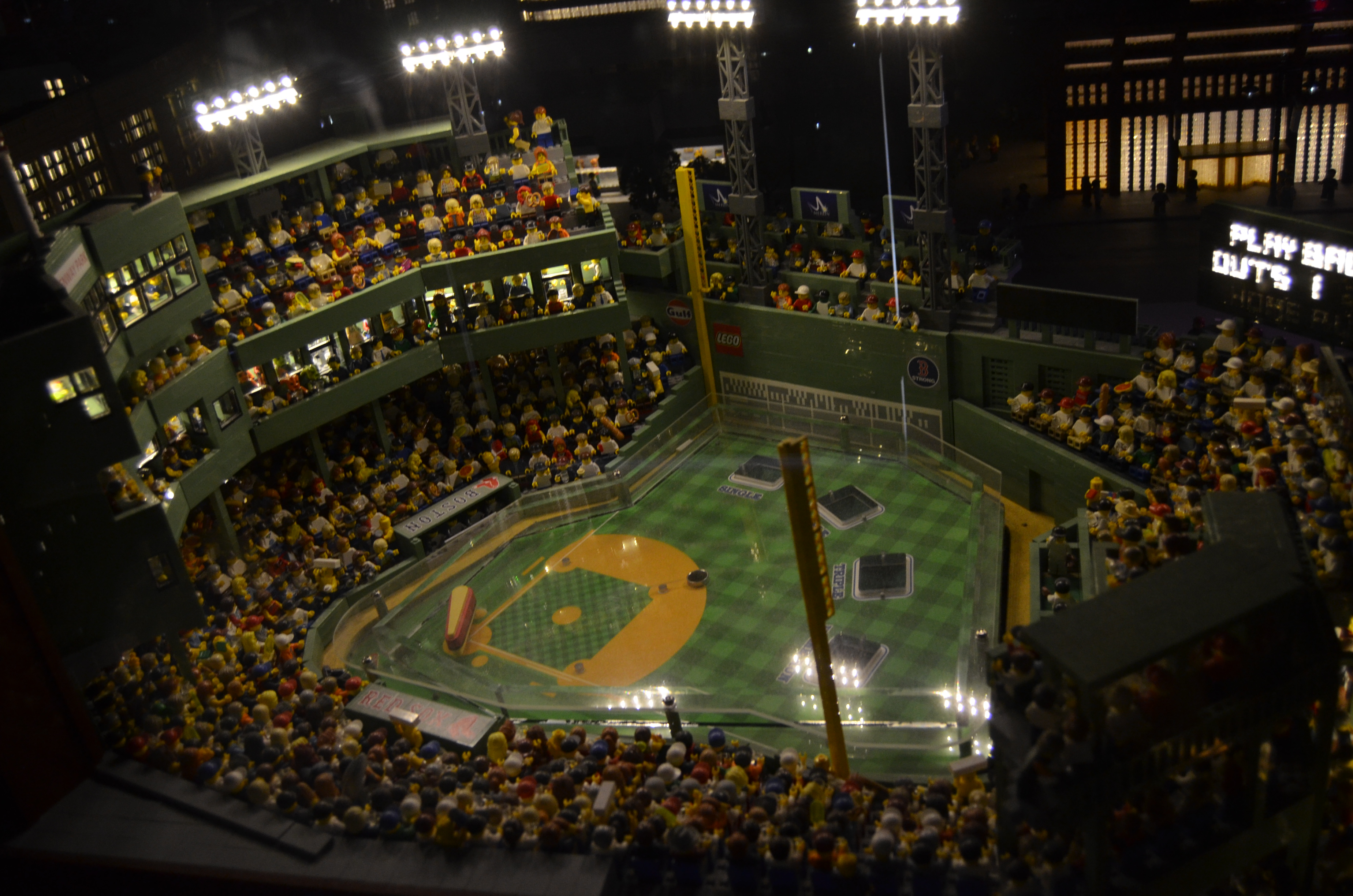 Once past Miniland, you get the the main hall of Legoland, which includes another tame but amusing ride called Merlin's Apprentice, a play zone climbing structure, and several different LEGO building areas.There's also a 4D Theater and a cool Ninjago training center. We did it all. We rode Merlin's Apprentice twice, the twins spent nearly an hour on the climbing structure, we watched all three 4D movies, and Twin V mastered the Ninjago laser maze. Then we went back to the Kingdom Quest Laser Ride again.
The only thing we didn't really do was build with Legos. Lots of kids were working busily at the various building areas–but at least one of my boys was way too distracted to actually sit down and build something. They also have a master building classes that are included in the price of admission. This is a very cool idea. But my boys did not have the attention for it — at least not yet.
Twin V started asking "When can we come back?" even before we left. Both twins were all abuzz when we came home and they couldn't stop looking at their new free Lego Club Magazine. And that night, they could barely fall asleep because they were so excited about the events of the day. So… that was a good day.
P.S. Even the bathrooms at Legoland are fun. A few days later, when visiting the loo at another esteemed museum in Boston, Twin V let out a feeling-sorry-for-himself whine. "I wish I was at Legoland right now. I want to go to the bathroom in that knight's castle!"