Boston, Mass – Martha's Vineyard celebrated the 40th anniversary of Jaws in 2015. But Cape Cod stole the limelight from the island, when real live great white sharks started making regular appearances near beaches from Chatham to Truro. The town of Chatham, for one, made the best of this unfortunate turn of events. That summer we discovered a public art exhibit, a science center and shark tours, all dedicated to the mighty great white. Meanwhile, in Boston, they started showing Great White Shark 3D at the IMAX theater at the New England Aquarium. And apparently, the Boston aquarium is the top spot in the world to see this popular movie. We have Great White Fever in these parts!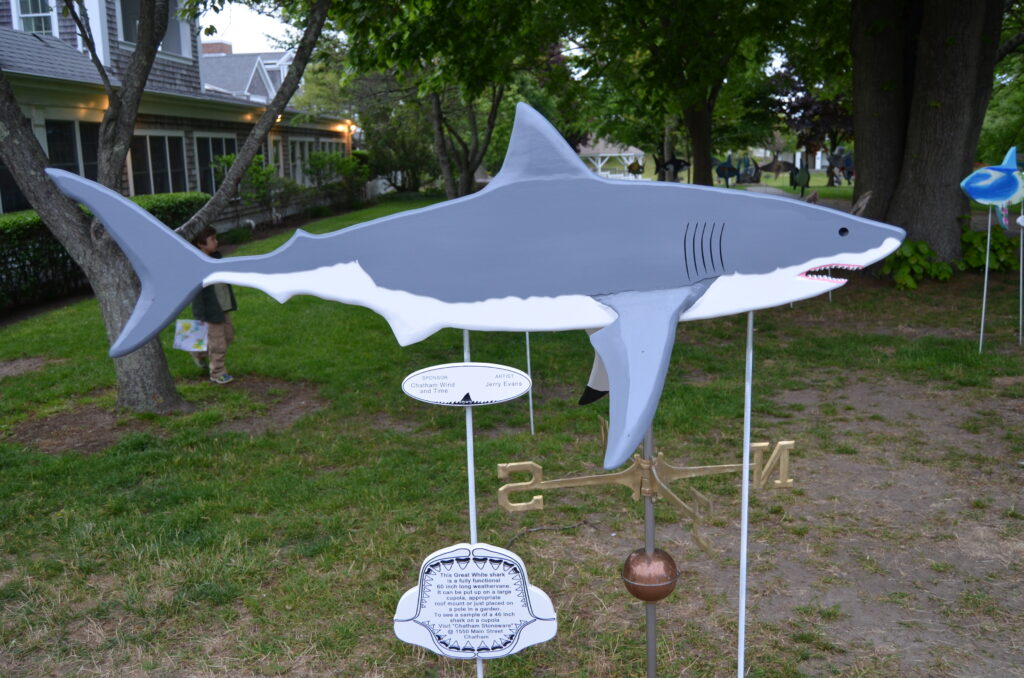 The twins and I finally got around to seeing this thrilling film (still playing at the aquarium, two years later). It focuses on the natural history and environmental issues affecting these creatures, as opposed to their terrifying predator reputation. There are some moments of excitement, though. In one scene, researches bait a shark with a decoy seal, giving viewers a close-up (and yes, terrifying) view of the shark's power and grace as it breaches.
The film highlights the fascinating job of scientists who are studying the sharks' migration patterns. In one amazing scene, free divers tag a great white without a cage or any other protection, demonstrating that these creatures are not as bloodthirsty as we think.
Of course, they can be dangerous. But as the researcher points out: humans are a much graver danger to sharks than the reverse. Not sure if Quint would agree…
For our part, the film grabbed the twins' attention, as well as mine. All three of us are ready for one of these Shark Adventures on our next trip to Cape Cod!