New York City – We decided to celebrate Daddio's birthday in NYC. He has been wanting to come down to visit his sister, so I planned a sort-of surprise and sort-of spontaneous getaway. We love to go to the theater when we visit New York, but I could not find a family-friendly show that would appeal to both kids and adults in our party. It was Daddio who decided on the long-running favorite, Phantom of the Opera.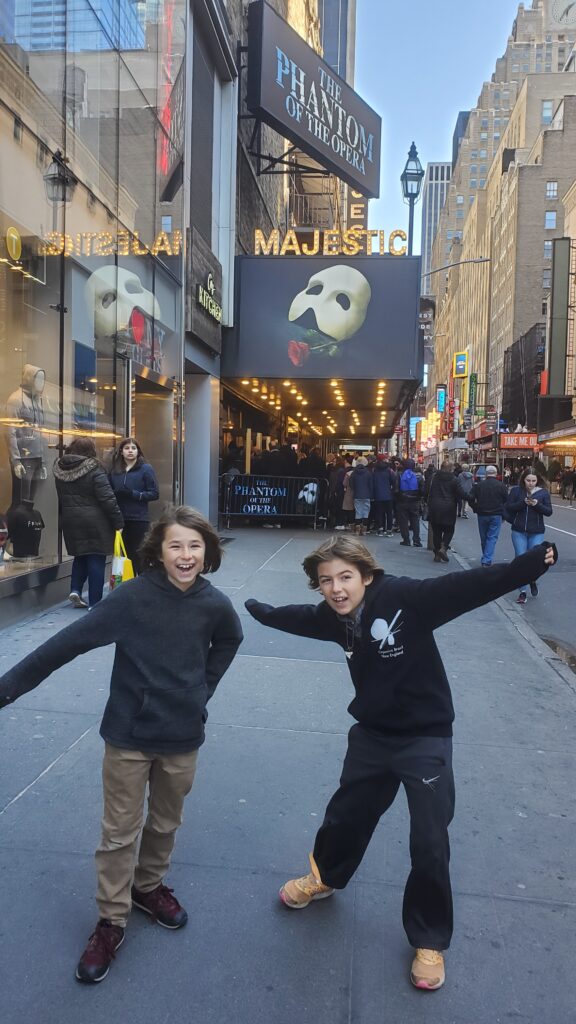 Phantom did not appear on any of the "Broadway for Kids" lists that I found. Yet it was clearly perfect for my guys, who love spooky stories and monstrous mysteries. They are not easily scared, so I knew that would not be a problem. I was more concerned they would have trouble following the story.
But I have a strategy to overcome that challenge, and it has worked reasonably well with shows ranging from The Nutcracker to Annie. The goal is to learn the storyline ahead of time–via books and/or movies–so that the live show is easy to follow. I also know from experience that I enjoy musicals more when I am already familiar with the music, and I'm sure the same would be true for kids.
With that in mind, I ordered Phantom of the Opera the novel and Phantom of the Opera the soundtrack. Unfortunately, we received them only a week before our trip, so our time was limited.
The novel was gruesome off the bat. It was also pretty complex for the children to understand. I had to stop frequently to explain vocabulary and plot twists. The twins seemed to be enjoying it enough, but we ran out of time before getting very far.
Fortunately, a week was plenty of time to listen to the soundtrack about a thousand times. Much to my surprise, the twins loved it. We listened to it in the house and we listened to it on the drive from Boston to New York. By the time we arrived, the twins were singing along with the CD and humming the songs even when the CD was off.
This was the first time seeing Phantom–not just for the twins, but also for Daddio, his sister, and me. We were all blown away. The twins were riveted from the first scene, when the chandelier crashed in the theater. They were rapt with the spooky music, the spectacular setting, the suspenseful storyline, and the creepy but somehow sympathetic antihero. Actually, I guess those are the things that we all enjoyed. Sister-in-law and I were in tears at the end. Twin S also admitted that he "felt bad" for the Phantom.
I stayed in New York for an extra few days to visit friends, so Daddio and the twins drove back without me. And yes, they listened to Phantom of the Opera the whole way home.