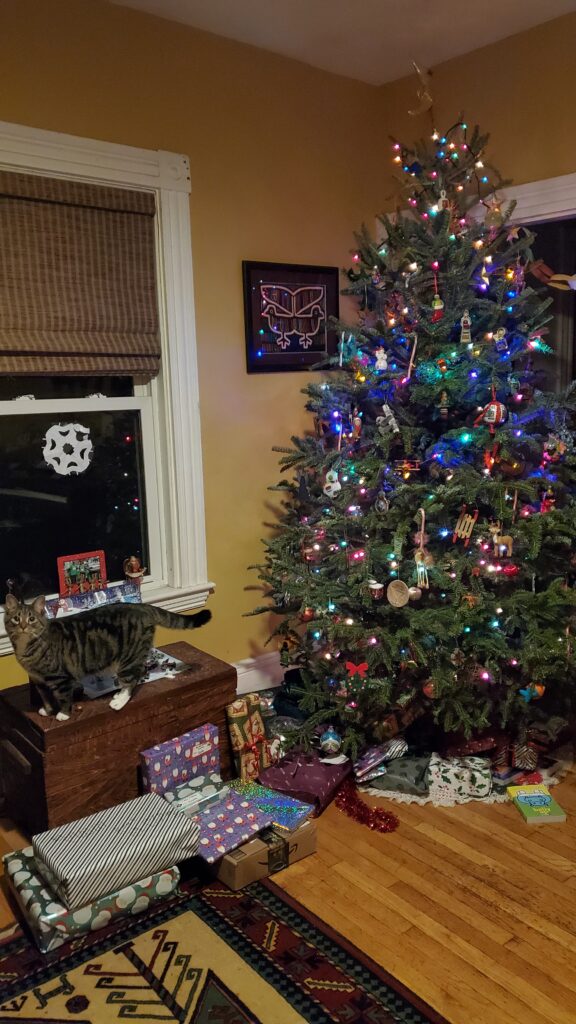 Somerville, Mass – We have not been home for Christmas in three years, since we were in Costa Rica last year and Italy the year before. It feels strange, not just to be home, but to be stuck at home with no Christmas parties, no visits from grandparents, etc. But we are doing our best to make this Christmas season as festive as possible. Daddio bought the biggest tree he could find. We set up paper bag lanterns on the street for the winter solstice. We made at least three different kinds of Christmas cookies. The kids planned a "Secret Santa" exchange with their friends. And we have been watching every single Christmas special we can think of. Including Miracle on 34th Street, which was a big hit with the twins. And we revisited The Nutcracker.
For starters we read the original book The Nutcracker, by E.T.A. Hoffman, with amazing illustrations by Maurice Sendak. This is a rather darker and more disturbing version of the story than the one told by the ballet. But the twins love creepy fantasies with black magic and fierce battles, and this was no exception. Thus, they were familiar with the story when we reached the grand finale.
Our Christmas special spree culminated with The Hip Hop Nutcracker, an awesome "contemporary dance spectacle" set to the traditional Tchaikovsky music. The storyline is similar to the original, but the setting is the streets of New York City. A live DJ and violinist bring the recorded music up to speed. And the dancing is over-the-top acrobatic and edge-of-your-seat entertaining. The show was recorded live at the New Jersey Performing Arts Center in 2019, and one year later, streamed into living rooms around the country, including ours.
It's been six years since we saw The Nutcracker at the Opera House in Boston. That was also quite a spectacle which enthralled the twins well into the second act. The Hip Hop Nutcracker lacked the thrill of a live performance in a theater, of course, but the show was fantastic. The twins were wrapt. They are crazy about the new innovative approaches to theater, whether musical theater like Hamilton, or dance, like the Hip Hop Nutcracker. I hope it won't be too long before we can see shows like this at an actual theater. But in the meantime, this was a fun, festive activity for a stay-at-home holiday season.