Bodega Bay, California – Everybody knows that Alaska used to belong to Russia. But most people don't realize that the Russians were actively exploring, hunting, trading and settling the Pacific Northwest, starting in the late 18th century. Yes, settling–like Russian forts and colonies in Alaska, Northern California and even Hawaii. Russian sites in Northern California included a port at Bodega Bay and the main fort and settlement an hour north. And that's how I got Daddio to come with me to California.
This weekend is a three-in-one–a family wedding, a romantic kid-free get-away, and our first research trip for our new narrative-nonfiction book (!). The Last Stand of the Raven Clan: When Russian Went to War in America is the true story of Russian ambition and expansion in the Pacific Northwest, and how they were repelled by a feisty band of Native Americans. Coming soon to a bookstore near you! (Not that soon. We have to write it first.)
Bodega Bay
About 70 miles north of San Francisco, Bodega Head is a rocky peninsula that juts into the Pacific Ocean, forming the north shore of the eponymous bay. This is where the Russians first landed in California, naming it the Gulf of Rumyantsev and setting up their port here.
Bodega Head is now (mostly) a state park with walking trails, wildflowers, photogenic cliffs and spectacular vistas over the bay and ocean. The hip little village of Bodega Bay is at the base of of the peninsula. There is nothing left to see of the Russian site, but that didn't stop us from spending a delightful day eating oysters and exploring the peninsula. We figure this is what the Russians probably did here too.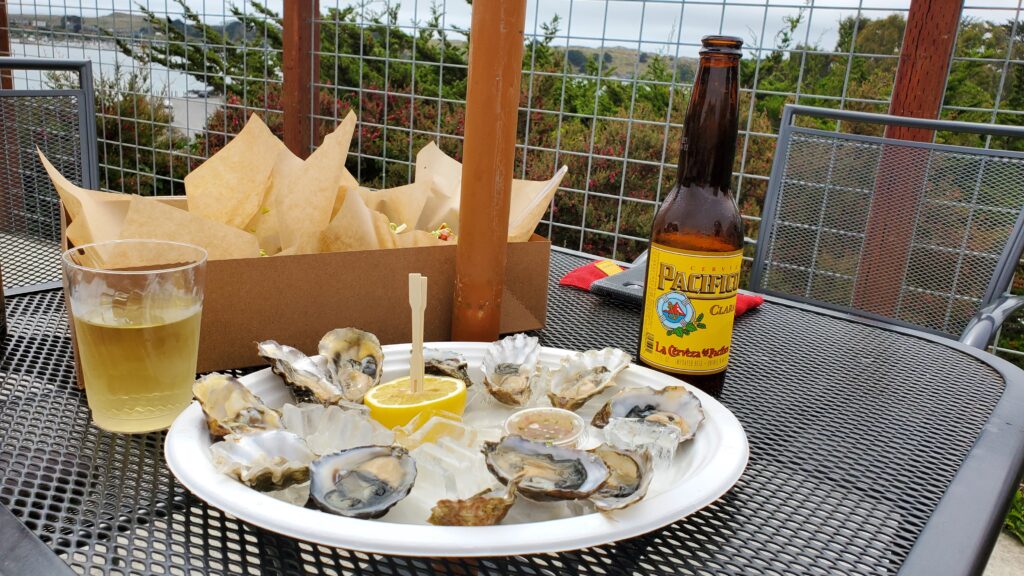 Bodega Bay Oysters
Fort Ross
In 1812, the Russians built the so-called Fort Ross on the coast about 23 miles north of Bodega Bay. Fascinatingly, it's still there (though mostly replica buildings). It is a gorgeous site on the cliffs overlooking the Pacific. But it is an odd sort of place, remembering an odd piece of history.
Initially, the Russians' main goal in California was to produce food to support the larger fur-trading settlement in Alaska, which was not able to sustain itself. Some Russian explorers had larger long-term plans in California, but the immediate need was to feed their existing colony. Fort Ross was functional for about 30 years in the early 19th century. They established farms and other manufacturing that were productive–but not productive enough.
In the end, as we know, Russian efforts in the New World were not successful. (And soon you'll be able to read Last Stand of the Raven Clan to find out why.) The escapade was largely forgotten. As such, Fort Ross remains as a relic of a piece of history that most people don't know anything about.
Nowadays, Fort Ross is part of a California state park. The buildings have been faithfully reconstructed, including a couple of houses, two blockhouses, and the wooden Holy Trinity St Nikolas Chapel. The only original is the Rotchev House, the home of the fort's last manager, built in 1836. We were the only guests aside from a few Russian families. It seems to be a sort of pilgrimage site for Russians living in Northern California (more than a million!).