Saco, Maine – We just got back from Ferry Beach, our beloved family camp that we go to every year. Except last year, of course (Covid, in case you forgot). You can read about past Ferry Beach experiences here and here. This year the uncontested highlight was the daily polar bear dip.
Before we ever came to Ferry Beach, the polar bear dip was a timeworn Vorhees family tradition, dating back to summers of my youth (and before that, my father's youth). On a lake in northern Wisconsin, my grandfather would rally all the cousins to get up early and jump in the chilly water, thus earning a Polar Bear Club certificate. We did not really have a choice about becoming a member of the Polar Bear Club. It was expected of us kids, and we all cooperated.
A few years ago in Finland, my father and I tried to revive this tradition, but the twins were not willing participants. Even with the promise of a sauna afterwards, they went in the water only under duress. The Baltic is frigid.
Here at Ferry Beach, there is a long-standing and highly esteemed Polar Bear Club which is open to all. Every morning at 7am, a stalwart group of swimmers greets the day in the best possible way – braving the early hour and chilly water for an invigorating dip in the big blue. They line up on the beach, grasp hands and raise their faces to the sun, before running full-speed into the North Atlantic. After that, you are woke.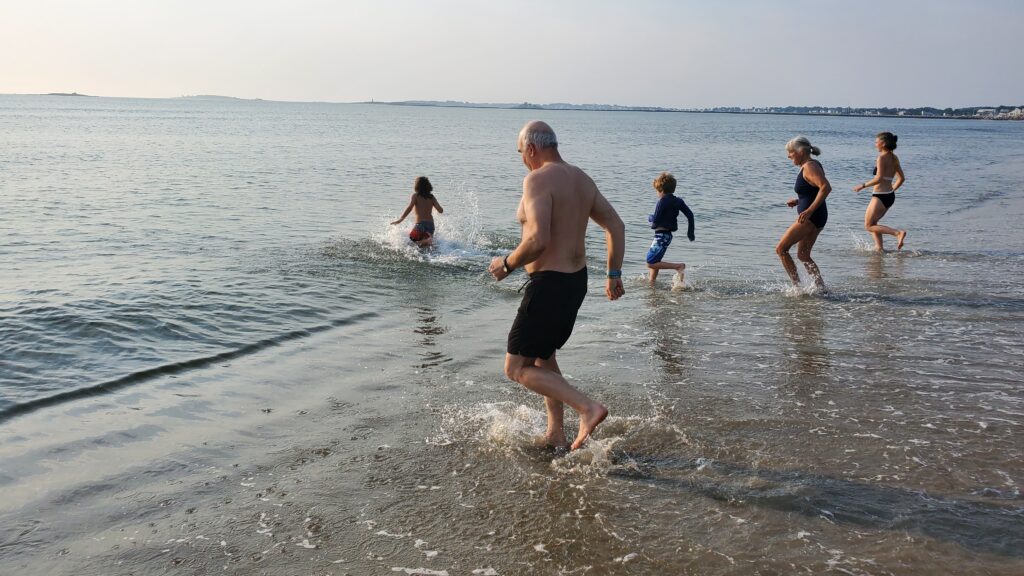 Much to my surprise and delight, Twin S embraced this practice of early-morning cold-water swimming. With very little encouragement from me, I might add. He woke himself up and joined the group every morning, then scampered, still dripping, to claim his spot at the front of the breakfast line. I usually joined him – at the polar bear dip, not in of the breakfast line. (In fact, I usually made a bee-line for the hot shower afterwards.)
Why the polar bear dip? It wasn't only because I was so well trained by my father and my grandfather that I still felt the pressure to participate. It was also that I knew that I would be glad I did it. No matter how much I didn't feel like getting out of my warm bed or submerging into cold water, I knew that I would be glad I did it.
Supposedly, there are many health benefits to cold water swimming, from boosting your immune system to increasing your libido (of course). I can't speak to any of that, but I will swear by this. Cold water swimming triggers the release of endorphins, which produces a natural high. Time and time again, our group emerged from the water shivering, and covered with goosebumps, and shouting with joy.
Really. Shouting with joy.
Sure, go ahead. Roll over and go back to sleep. Twin S and I will be out there whooping it up. You don't know what you're missing.