Ketchikan, Alaska – After its founding in 1900, Ketchikan became the first port of call for ships traveling to Alaska from the south, thus earning its nickname, The First City. Nowadays, it's no different, as cruise ships stop here first on their way further north. We are not traveling by sea (for the most part), but we also started our tour of Alaska in the First City.
Nowadays, Ketchikan is a gritty little city of about 8000 residents. Its old economy of fisheries and canneries has given away to the domineering cruise ship industry. (On some days when the port is full, the town's population more than doubles.) Nonetheless, spectacular scenery and rich native American heritage are the defining features of this town. Ketchikan also retains an Old West adventure atmosphere. (One popular attraction for cruise ship passengers is the Great Alaskan Lumberjack Show. We skipped it.)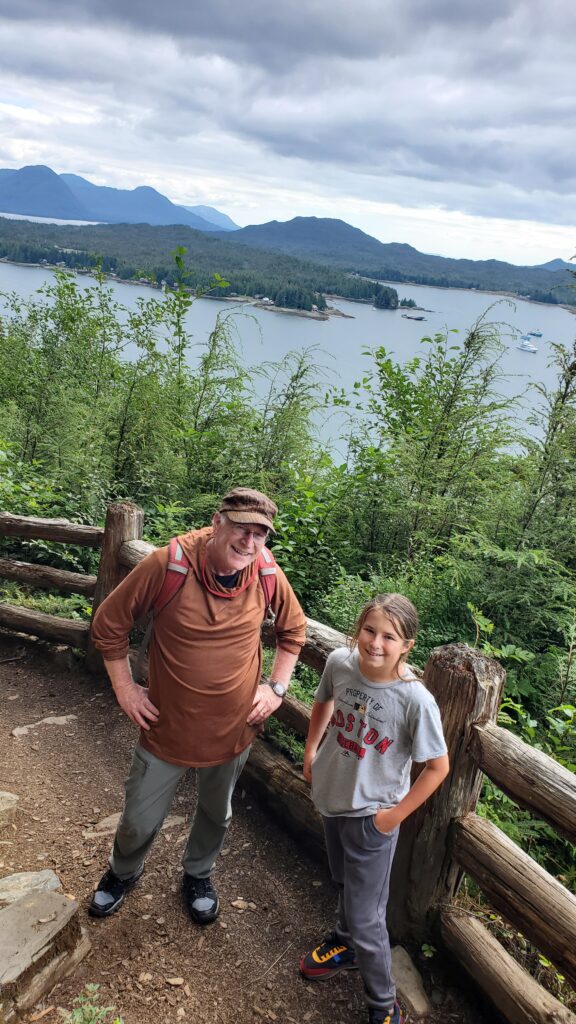 Instead, we spent our time immersed in the native Tlingit culture and community. Our goal was to learn as much as possible for our book-in-progress, The Last Stand of the Raven Clan (and, of course, to see the world's largest collection of native totem poles). We also made sure to spend as much time as possible outside, hiking and and otherwise exploring this amazing landscape. Here are Daddio and V on the Rainbird Trail, against the backdrop of the Tongass Narrows.
And we were pretty pleased to end our days at the warm and welcoming Black Bear Inn. We sure are going to miss our evening ritual of sitting in the hot tub and watching the sun set into the Narrows.