Río Celeste, Costa Rica – We spent the first half of our week in the Río Celeste region, tucked into a valley between the Tenorio and Miravalles volcanoes. The region is famous for its namesake river – another true blue beauty – for its prolific wildlife, and for its highly variable weather. Apparently there are like a dozen micro climates in this valley. And yes, we experienced them all.
We stayed in the village of Bijagua at Casitas Tenorio, where we had our own stylish and comfortable casita with a fabulous front porch (and a hammock swing!) At the farm on site, we got to milk a cow (except for V, who was too shy). Breakfasts were fabulous; there was chess in the common area; and most importantly, this friend was hanging around when we arrived. What could be better? (And just in case you have not heard about my previous run-in with a baby sloth, you can read about it here…)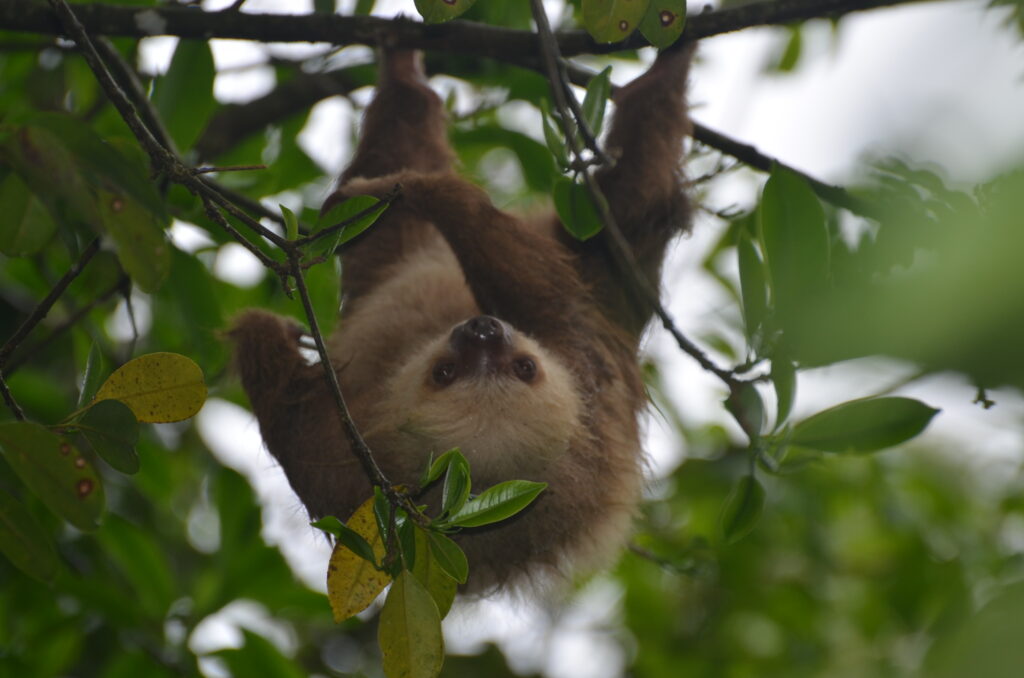 Here are some of the other highlights of our stay in Río Celeste.
Tenorio National Park
Tenorio National Park is the centerpiece of the region. This is where you can see the Río Celeste cascading into a pool of deep, pure azure, if you're willing to do the 5km hike (which we were). Unfortunately, we did not see the waterfall at its bluest due to recent rains, but we thought it was just lovely.
Incidentally, the trails were surprisingly crowded, considering the season. The truth is that this region used to be an under-the-radar destination, but the recent paving of the road to the national park has changed all that. Now, the central location and smooth road mean that Río Celeste is easily accessible from the beaches on the Nicoya peninsula and the tourist hub of La Fortuna. Park officials even started limiting the number entrants into the national park, due to the increase in popularity.
That said, most people buzz in, hit the national park and hit the road. By staying in Bijagua for a few days, we discovered so much more.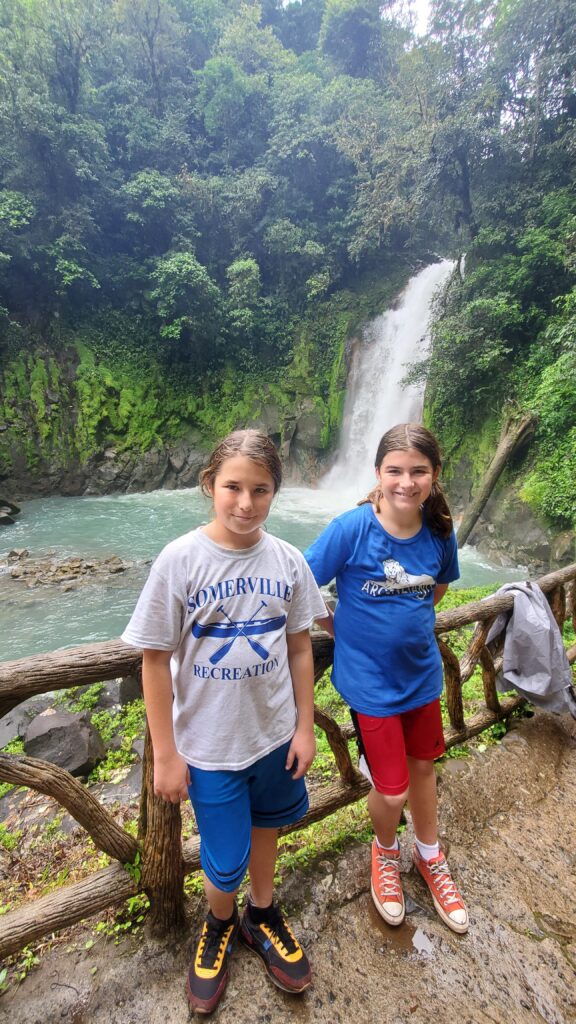 Tapir Valley
Tapir Valley is a private reserve on the edge of the national park. Río Celeste is one of the few regions in the country where there is still a population of Baird's tapirs, so it seemed like a good place to do a night walk and try to spot one. I saw a few tapirs when I hiked across Corcovado national park, but it is in fact quite rare to see this endangered species. If we could catch a glimpse of one, I thought it might impress my unimpressible tweens.
We ended up seeing two poisonous snakes, lots of cool new frogs and – yes – the endangered Baird's tapir. I was impressed. The latter was quite far away, and the guide was super sensitive to not disturbing him. So we didn't get a great look at him, but we did get a look at him!
Were the twins impressed? Truthfully, V was probably too tired to be impressed by much of anything, although he played along. S was mildly impressed by the animals, and enormously happy with the snack break. So, I'll call that a win.
Heliconias Hanging Bridges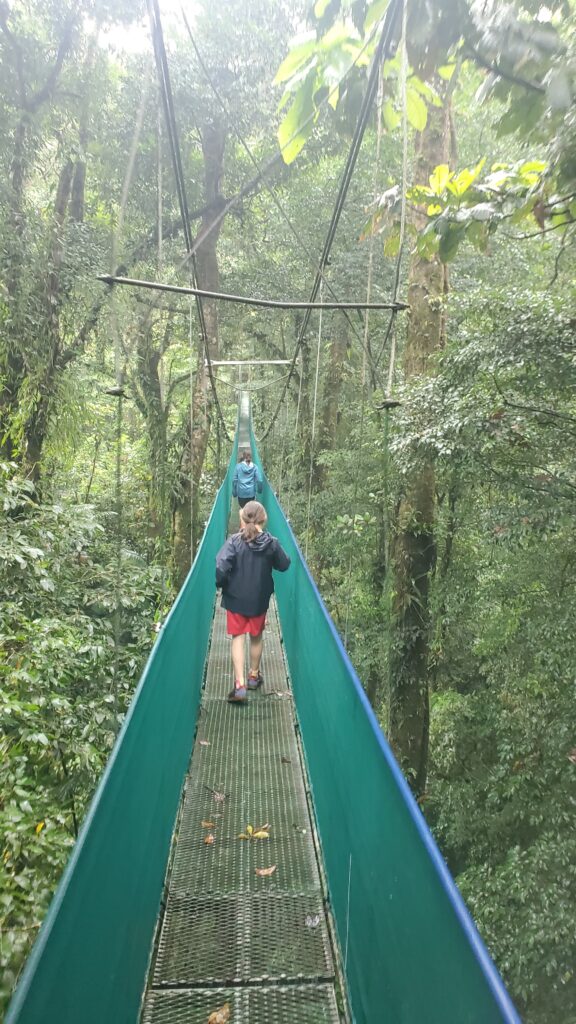 Heliconias Rainforest is another private reserve that borders the national park. They have a hiking trail with a few hanging bridges through the treetops. This is a much smaller scale hanging-bridge operation than Selvatura Treetops Walkway in Santa Elena or Mistica Hanging Bridges in La Fortuna. But the trees are just as big!
On our hike, we were reminded that it's definitely the rainy season in the rain forest. Fortunately, these guys don't mind getting wet. (When I complain about the weather they keep reminding me where we are.)
Tubing Río Celeste
Our final day in the area was a fun (and sunny!) one. We flew, floated, cruised and crashed down the Río Celeste in inner tubes. (It looks easy and relaxed in the photos, but there were also rapids, which were bumpy and sometimes fast!) This was a great change of pace from all the hiking. It gave us all an adrenaline boost and everyone had a grand time. Did I mention it was sunny?