Somerville, Mass – For those of you who like to make lists and check them twice, here's a handy reference: Lonely Planet's list of the 500 best places to see. In the world. And they are ranked.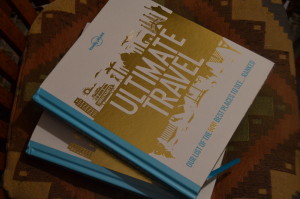 When you get this book, the first thing you'll want to do, of course, is find out what is the No 1 BEST place to see in the world. I won't ruin it for you. After that, you'll have to count up how many of the top 10 you have been to (7 out of 10 for me).
But after that, I urge you to delve deeper and peruse the stellar writing on some of the lesser known entries (which just might have been written by somebody you know). Or you can just read the unedited versions here:
No 197 – Rynek Glowny, Poland
The Rynek Główny is paved with cobblestones and surrounded by original buildings, with the old marketplace – the Cloth Hall — at its center. The architectural ensemble is nearly 800 years old. Lined with shops and cafes, the plaza is abuzz with activity. A window opens in the tower of the Mariacka Basilica, and a trumpeter begins to play the mournful melody of the hejnał. Far below, the crowds pause to listen. Suddenly, the warning song is cut short, mid-note, as if the trumpeter were shot in the throat by a Mongol invader, reenacting a legend that's also nearly 800 years old. See it! Rynek Główny is in Krakow, Poland. It's stunning any time of year, but it sure is cold from December to March.
No 206 – Vasa Museum, Sweden
When the mighty Swedish warship Vasa sank to the bottom of the Stockholm harbor – just 1300m into her maiden voyage – it was an embarrassment. When she was salvaged and restored, she became a source of national pride and a symbol of the Swedish Empire at her pinnacle. Now on display in full regalia, Vasa is glorious indeed. You'll gawk at her sheer size, marvel at her lavish ornamentation, and feel the pride of an Empire that rivalled the European greats. You'll also learn the details of lives lost, the events of the sinking and salvage, and the ongoing efforts to preserve this piece of Swedish history. See It! Vasamuseet is located on the island of Djurgården in Stockholm. From June to August, the museum opens at 8.30am, so you can arrive early to avoid summer crowds.
No 213 – Wieliczka Salt Mine, Poland
Descend deep underground into this unusual museum, where all of the artistic, architectural and even spiritual treasures are fashioned out of salt. (Yes, we said salt.) Wieliczka operated as a salt mine for more than 700 years. Reaching depths of 327m, the mine has more than 287km of galleries and corridors. It contains – among other attractions – a mining museum, sculpture exhibits, and a vast, eerie chapel hung with chandeliers (all made from salt). There's also an underground lake and a subterranotherapy spa, as the mine's microclimate supposedly has health benefits. All we can say is, it's surreally salty down there. See it! Wieliczka salt mine is located 14km outside of Krakow, Poland. No matter what the weather outside, it is chilly when you're 135m underground (14° to 16° C).
No 243 – Monteverde Cloud Forest, Costa Rica
Even the name – `Green Mountain' cloud forest – evokes a magical, mystical place, where life is abundant, but concealed. It's a place where soaring trees are draped in epiphytes, so it's impossible to distinguish between forest, floor and canopy. Where the verdancy is seemingly impenetrable, but still punctuated by delicate orchids and flame-colored bromeliads. Where the silence is amplified by the drip, drip, dripping from the canopy – then shattered by the clang of the three-wattled bellbird. Monteverde sits on top of the Continental Divide, acting as an invaluable watershed and providing a habitat for hundreds of species of birds and animals (most of whom are too discrete to show themselves). Swirling with mist and throbbing with life, Monteverde has a sensual, otherworldly aura that is unique to the cloud forest. It's no wonder that visiting scientists and Quaker farmers were so moved to cooperate and innovate, in order to protect and preserve this Edenic green mountain. See it! The main entrance to Bosque Nuboso Monteverde is 6km south of Santa Elena, Costa Rica. The less rainy season is from December to April, but it's still pretty rainy.
No 244 – Manuel Antonio National Park, Costa Rica
Parque Nacional Manuel Antonio is only 20 sq km, but it is 20 sq km of pure bliss. Well-marked trails wind through the lush rainforest, where birds squawk noisily and monkeys scamper playfully.  The trails emerge onto dreamy palm-fringed beaches, yielding glorious views across the turquoise sea.  Brown boobies and brown pelicans nest on the rocky islets off the shore. It is the embodiment of `tropical paradise.' Manuel Antonio is no secret, of course, and you're likely to find yourself sharing this idyllic spot with 600 of your closest friends. But despite the park's small size, it's still possible to find a slice of solitude, as long as you're willing to wander a little bit farther. And for that, it's all the more rewarding. See it! Parque Nacional Manuel Antonio is 7km from the town of Quepos, with the smaller village of Manuel Antonio at the park's edge. The dry season runs from February to April.
No 271 – Arenal Volcano, Costa Rica
The imposing Volcán Arenal looms large over this entire region. So no matter what you're doing – whether exploring old lava trails, windsurfing on Lake Arenal or biking on remote roads – the volcano is your majestic backdrop. Frankly, it's distracting (in the best possible way). Gone are the days when visitors watched for nightly fireworks displays, when glowing molten lava spewed from the volcano's mouth and crept down its slopes. Sadly, Arenal has been dormant since 2010. All that's left now is a picture-perfect peak, docile but still steaming, and still surrounded by animal-infested forests, gushing waterfalls and ever-inviting hot springs. See it! The main gateway to Volcan Arenal is La Fortuna, Costa Rica. The dry season runs from February to April.
No 301 – Tortuguero National Park, Costa Rica
This is where the coastal rainforest feels like the Amazonian jungle – dripping with humidity, clamoring with squawks and squeals, and teeming with life. As your boat floats through lazy lagoons and creeping canals, you'll spot crocodiles sunning on logs, sloths hanging in trees, otters splashing in waters and howler monkeys making their presence known. And birds – hundreds and hundreds of birds. And then there's the main attraction: the turtles. Spy on a massive mama sea turtle, as she hauls herself onto her natal beach, laboriously digging out her nest and dropping in dozens of eggs. Then, catch a glimpse of the hatchlings, scurrying to the sea. You can even do your part to protect these endangered species from the very real perils of predators and people. In Tortuguero, you'll witness the cycle of life, playing out on a dark stretch of beach, just as it has for millennia. See it! The village of Tortuguero is the base for exploring the park. Turtle nesting season is from March to October, with a peak in July and August.
No 388 – Wolf's Lair, Poland
From June 1941 to November 1944, Adolf Hitler was hunkered down in Wolfsschanze, the Wolf's Lair, in remote northeastern Poland. Nowadays, the site is an eerie 18 hectares of overgrown forest, peppered with huge concrete bunkers, most of which were at least partially destroyed by the retreating Nazis. The site has not been maintained very well, and there is little in the way of explanatory or educational materials, which leaves you feeling lost – emotionally, if not physically. It makes for a strange and sobering pilgrimage site. (It's not clear: are you supposed to smile when posing for a photo on top of Hermann Göring's bunker?) See it! The Wolf's Lair is 8km east of Kętrzyn in Masuria, Poland. There is bus service, but it's much easier to rent a vehicle or take a tour.
No 390 – Tsarskoe Selo, Russia
Built over the course of nearly 50 years by three design-savvy ladies and their favorite architects, Catherine's Palace is 32 rooms (and counting) with enough glitter, gold and glitz to make your eyes glaze over. The Rococo palace was decimated by the Nazis and largely ignored by the Soviets; but now the ongoing reconstruction is gradually restoring each and every room to its former sumptuousness. Dance your eyes across the parquet floor in the Great Hall – a vast, 800-sq-meter ballroom that's covered in gilded Baroque ornamentation. Imagine receiving guests in the exquisite, Enlightenment-inspired Arabesque Room, or feasting on the Meissen porcelain in the elaborate White State Dining Room. Gawk at the dazzling Amber Study, constructed from 450 kg of the precious gemstone. You'll ogle room after room of magnificent extravagance – irresistible for sure, but also excessive. But an Empress may not see it that way. See it! Catherine's Palace is the grander of the two palaces located in at Tsarskoe Selo, near the village of Pushkin, 25km south of St Petersburg, Russia.
No 406 – Malbork Castle, Poland
Here's the castle of your childhood daydreams, where righteous knights launched crusades against ungodly pagans, collected tolls from passing ships, and traded in precious gemstones. The fantastic Marienburg was built in the 13th century by the Teutonic Knights, a fierce German military order. The castle was eventually seized by the Polish king, but not before the knights had expanded it to become the biggest in Europe. Nowadays, Malbork Castle is the perfect place to embrace your inner medieval warrior, fending off attackers and rescuing damsels and dudes as you see fit. Explore the castle's grand vaulted halls, discover its hidden passageways, pay your respects in its many chapels, and venture into the notorious Witold Cell, or prison. More fodder for the imagination: housed in an isolated castle tower, the Gdanisko is a cozy closet with an unceremonious hole, revealing a steep drop to the great outdoors. That's right, the castle loo. See it! Malbork Castle dominates the town of the same name (Marinburg in German), which is 30km southeast of Gdańsk.