Sarasota, Florida – This is birding at its best. Pull up a chair, pour yourself a glass of wine, prop up your binoculars, and the birds come to you! Actually, they are coming home to roost at the Venice Rookery, a little island in a little lake managed by the Venice Area Audubon Society. But it happens right in front of you. And it's a pretty amazing show, full of squawking, squabbling, fluttering, flapping, and plenty of posing.
From December to  May, it's nesting season at the Venice Rookery. This evening we saw great egrets, great blue herons and black-crowned night herons, all on their nests. One great blue heron was feeding two juveniles, flying off for stretches at a time, then returning to regurgitate some yummy fish or something. We also saw snowy egrets, glossy ibises, green herons, anhingas, cormorants and moorhens. What a night!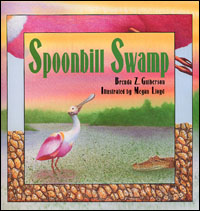 We also saw an ominous alligator patrolling the waters. The Venice Rookery website claims that the 'gators keep mammalian predators at bay. This may be true, but… aren't the alligators also predators? I read Spoonbill Swamp, I know the story. In this children's book by Brenda Guiberson, a mother alligator and a mother spoonbill both leave their babies to go hunting in the swamp. (Spoiler Alert!) The spoonbill narrowly escapes the alligator's attack.
This article in the LA Times science section confirms that Florida 'gators do in fact protect the birds from other predators. "But this doesn't necessarily mean the enemy of one's enemy is a friend. The birds make sure to build their nests about five feet above the water, where the gators can't jump up and eat them." I'm not sure why the Audubon Society would gloss over this fact. We can handle the truth.
As the island inhabitants started to settle down, the grandparents and the twins made their way over to inspect the four bat houses that stand near the lake. Many birders (now batters) had wandered over there. And suddenly, dozens (hundreds?) of bats emerged from these tiny houses, swooping and swarming around the area. Amazing!
It was a pretty excellent evening for birding and batting. (And it's not often that I can enjoy those activities with the twins!)