Princeville, Kauai – High-surf warnings have foiled our plans for a beach day today (unless we want to drive to the south shore, which we don't). But we ended up dedicating the day to horseback riding and shave ice, which was not a bad thing.
Horseback Riding
The twins voted to spend the afternoon horseback riding. We headed to Princeville Ranch, which was incidentally the only place we could find offering horseback riding on Kauai. This was a pricey tour (and a bit slow-moving for the adults in the group). But the scenery was lovely and the twins loved it.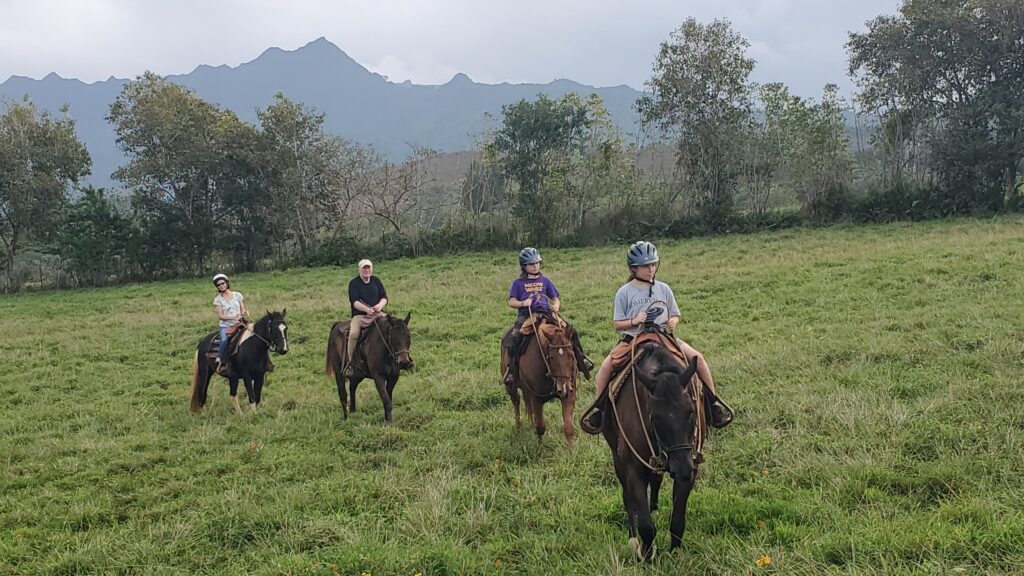 Shave Ice
This Hawai'ian specialty is something like a snow cone. Thinly shaved ice is topped with sweet flavored syrup, fruit and other treats. (Yes, the ice is shaved, but the dessert is not called shaved ice, it's called shave ice.) I have to admit that we have seen shave ice for sale around the island and it did not appeal to me at all. But our wonderful horse guide recommended Wishing Well for the best shave ice on the island, so we had to check it out.
And, I admit, it lived up to the hype.
It's noteworthy that Wishing Well serves its shave ice over ice cream, which adds a richness that is not there in the straight-up ice. So… I guess I'm going to have to try a few more places before I make a final assessment. Yeah, that's what I'm going to have to do…
Between horseback riding and shave ice, I'm pretty sure this is going to rank as one of the twins' best days in Kauai.