Hanalei, Hawai'i – One thing we learned this week is that in winter, Kauai's north shore beaches see some serious surf action. Sometimes dangerously so. In truth, I'm not sure I would have chosen to stay on the north shore, if I had known the beaches might be off-limits. But also in truth, I'm glad I didn't know, because we are loving it up here. Surf's up in Kauai, man. Nothing to do about it except get yourself a board and go surfing!
Our AirBnb is about a half a mile from Kahili Beach. This is a wild and beautiful beach with palm trees and big waves and not much else. That is, no development and no lifeguards. I fell in love with this beach the first time we visited, on the day of our arrival. We were all giddy and tired from 24 hours of travel, and we just walked down to see what the local beach was like. Tucked into a cove, the beach itself was nearly empty, but the point break was crowded with surfers, waiting for their waves and riding them high.
Of course the twins couldn't resist the gigantic surf, and they were soon dodging and diving, despite Daddio's protests. (At the airport Daddio had picked up an information pamphlet that warned about the dangerous currents at north-shore beaches, so he was a bit paranoid. I couldn't fault him… but I was more confident in our judgement and ability, so I let it ride.) We didn't even have our bathing suits on, but we ended up staying for two hours while the guys battled the wild surf. They had a blast.
Of course, after that episode – and watching the surfers do their thing – Twin V wanted to learn to surf too.
But the next day, the local authorities issued a high surf advisory for most of the north-shore beaches. We had intended to spend the afternoon at Ke'e Beach (after hiking the Kalalau Trail), but it was closed. A few days later, I called to inquire about surf lessons at Hanalei Beach, but they were not holding them due to the dangerous surf. And in fact we were so busy with our many activities, that we were in danger of missing the beach all together.
Finally, yesterday we had no plans and the high surf warning had expired. We rented boogie boards at Hanalei Surf Co and took them to the pier at Hanalei Beach – which is supposed to be relatively calm, even when the rest of the north-shore beaches are raging. The surf was much less forceful than it had been at Kahili, but there were plenty of waves that were strong enough to ride, and we spent all afternoon doing just that.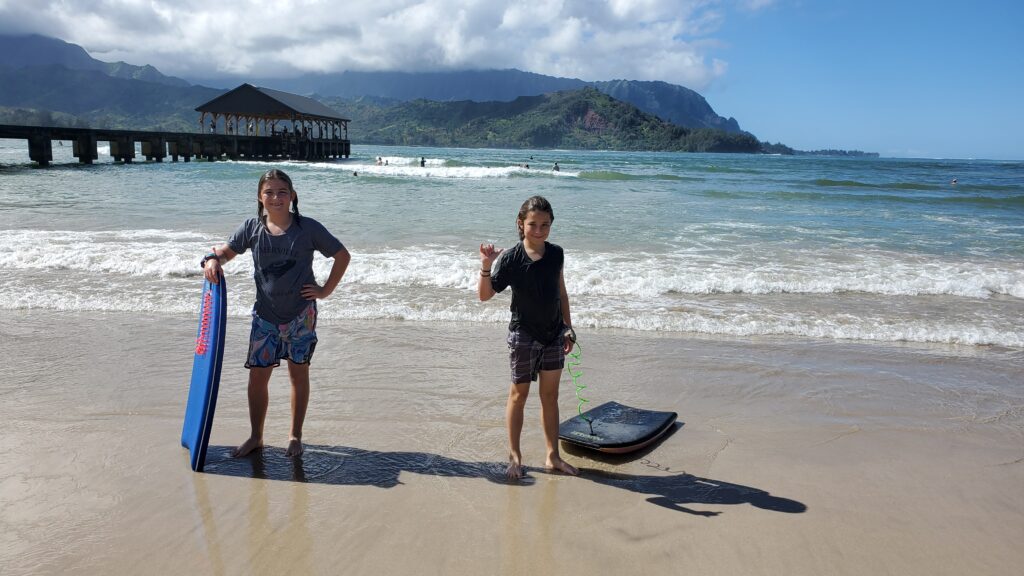 Well, the kids did. Daddio and I took turns on the boogie board. But I also relished the opportunity to do nothing but sit on the sand and soak up the sun. First time since the day we arrived.
As for S and V, we had to drag those boys out of the water as the sun was setting. They couldn't get enough.
Fortunately, we postponed our departure by one day to avoid flying through storms. (Remember what to do when the airline offers to change your flight to avoid a weather disaster.)
So – lucky us – we still had one more day that was completely free! The kiddos voted to go back to Hanalei Beach for more boogie boarding. Shortly after arrival, they upgraded to surfboards. In the words of Twin S, "Who needs a lesson?" Who, indeed?