Kapa'a, Kauai – When planning our trip, Twin V specially requested swimming in a waterfall. Once I abandoned my plans to hike to Hanakapiai Falls, I set out to find an alternative. I finally decided on the Wailua Falls – an outing that involves kayaking the Wailua River, then hiking to the falls for a picnic and a dip.
We did this tour with Kayak Wailua. In retrospect, the tour was not necessary. It would be easy–and better–to rent kayaks and kayak the Wailua River independently. But there are logistical challenges, such as transporting the kayaks to the river.
I was also not sure we would be able to find the way–both in and out of the water–so we opted for the highly-rated tour. But actually, it would have been easy to find the way because of the multiple large groups of people, all kayaking and hiking to the same place.
We were Kayak Wailua's first tour of the day. Our group was limited to eight or ten people, and we had the river to ourselves on the way there. That was nice.
But several groups had beat us to the sandy spot where we made landing, and several others passed us on the trail. By the time we got to Wailua Falls, it was already kind of crowded. (And the chickens had already started swarming for picnic scraps.) The more we waited for groups to leave, the more groups arrived. I didn't necessarily expect to have the place to ourselves, but this was ridiculous.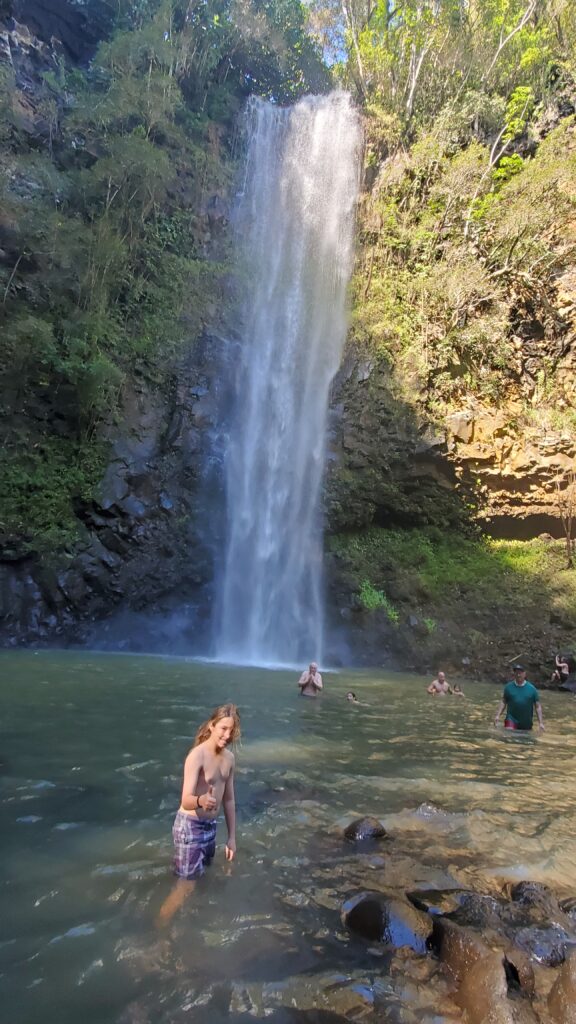 I am an independent traveler by nature. The moment I feel like I am being herded around on a contrived adventure, I get cranky. This is what happened at Wailua Falls.
It was a reminder to me that expensive group tours are rarely worth it. (Expensive private tours–worth it. Expensive group tours–not worth it.)
BUT we did enjoy kayaking the Wailua River. And I discovered that the twins are quite the capable kayakers–who knew? And we did get to swim in a waterfall. Nobody else was complaining, so I won't either.